Favorite Disneyland Snacks and Treats
Disneyland has really upped their game in the food department the past couple of years. They now have really amazing holiday offerings in addition to their evergreen food. Today I want to share with you a few treats and snacks we tried during our last trip that really stood out to me. We only had one day at each park and left each day feeling totally stuffed! But, in the best way possible! We ate so many yummy things that I hadn't tried before!
For the past couple of years we have taken a family vacation to Disneyland and California Adventure. Bringing young kids really is magical and fun, but it is a much different trip than going with just adults! I planned a trip with two of my sisters, a few of my nieces and my daughter this September so we could go without a stroller and enjoy the big rides!
So, belly up to the bar and drool over these yummy treats!
Disneyland Snacks and Treats
Caramel Apple Smoothie – 9/10
Find it at: Schmoozies (Halloweentime only)
If you've tried the smoothies available at Schmoozies, can we agree that all but the berry one are pretty bland tasting? No, okay, keep scrolling. If you, like me, want more flavor, then this is the one to get! There is a slight artificial flavor taste to it, but guess what? That's because it is artificially flavored. However, the yummy, drippy caramel more than makes up for it. This day, we got one smoothie in each flavor to share and we all agreed this was the best one – hands down!
Churro Sundae – 11/10
Find it at: Golden Horseshoe (Halloweentime only)
Yep, this got an 11 out of 10. It was my favorite thing, no comparison, of the entire trip. In fact, I have since had dreams where I am standing outside the park entrance with no ticket begging people going in to bring me out a Churro Sundae. The hot caramel, the cold and creamy ice cream and the crispy churro to use as a dipper, was the most perfect combo in the history of ever. They have a chocolate peppermint churro sundae offered during the Christmas celebration and it almost makes me want to drive the 10 hours just to get one.
Fried Chicken Platter – 7/10
Find it at: Flo's V8 Cafe

As you can see, I swapped out one of my sides for a side of macaroni and cheese. My daughter and I shared this plate and it was plenty for the two of us. There are 4 pieces of chicken there! The seasoning was spot on, but the chicken has been dry each time we have gotten it. Otherwise, I would have given this a higher score. The macaroni was well cooked (not mushy) and the potatoes were really flavorful. I loved sitting in the diner listening to the oldies music I grew up listening to with my dad. It has the potential of being the perfect meal.
Frosty Parfait – 9/10
Find it at: The Adorable Snowman
If you love the Dole Whip (and if you don't, you aren't human) then you'll love this lemon soft serve! It was delicious! In fact, next time I'm just going for the lemon and not adding in the blue raspberry slush. The slush added a fun texture, but didn't really have much flavor to add. The lemon though, was tart and sweet and cold and creamy. Yum!
The Grey Stuff Gateau – 8/10
Find it at: Red Rose Tavern
The fluffy and perfectly smooth mousse surrounding the red velvet cake was my favorite part. It was helped by the chocolate cookie crumbles and chocolate pearls. My favorite bit of the entire thing was the raspberry that sits right at the top of the cake and just under the top of the mousse. This was my first time going in the Red Rose Tavern and I'll have to keep it in mind when I'm back again with kids. It had indoor and outdoor seating and a great menu!
Jolly Holiday Combo – 10/10
Find it at: The Jolly Holiday Bakery Cafe
What a perfect dinner! The warm tomato basil soup was thick, acidic and perfectly seasoned. The grilled cheese sandwich was a large portion and overall I was perfectly happy! Best of all, you can mobile order and not wait in line!
Jack-Jack Cookie Num Num – 10/10
Find it at: Jack-Jack Cookie Num Nums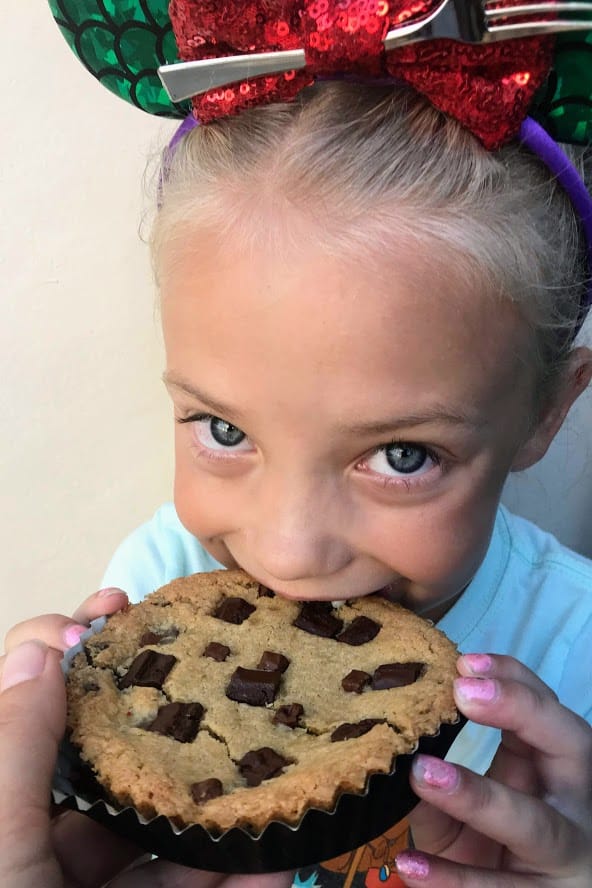 I'm not a big fan of store bought cookies. They always taste like they were made in a factory. But, I had heard that this was the real deal and I wasn't disappointed! I was so impressed with how perfectly baked it was for its size. It's about 3/4″ thick and about 5-6″ in diameter. The edges area crisp and the center is soft. The buttery cookie is riddled with semi sweet chocolate chunks. Served warm, its heavenly. My daughter and I shared this, and we should have had one more person to share with because it was huge!
Matterhorn Macaroon – 10/10
Find it at: Jolly Holiday Bakery Cafe
I keep asking myself how I've made it to Disneyland so many times and this is the first time I've tried this. I feel like I've really been missing out! Man alive, if you get the chance – get this! Again, it is so perfectly cooked with crispy edges and a soft, chewy center. And the coconut flavor is so well balanced with the white chocolate. I've been dreaming about this one too.
Red Rose Macaroon – 7/10
Find it at: Jolly Holiday Bakery Cafe
Disneyland has some amazing pastry chefs. While the macaroon was perfectly cooked, I found it overall a little too sweet. But the fresh raspberries were such a perfect pairing with the sweetness. I'd get it again for sure, but if you get it, be ready for the sweetness!
BBQ Turkey Leg – 9/10
Find it at: Troubador Tavern
Smoked turkey is one of my favorite meats. And I love getting this turkey leg for two very important reasons: first, it gives you a great source of healthy protein during a day full of treats. Second, I love that it has a BBQ glaze at the Troubadour. Other turkey leg carts in the park are not BBQ. Plus, at the Troubadour they have the 32 oz soda, where a lot of the stands only have the 24 oz. I needed a 32 oz to wash this bad boy down.
Popcorn – 10/10
Find it at: All the popcorn carts
I'm convinced they pipe the smell of their popcorn all over the place because as you walk through the park it is intoxicating. After all the sweet treats we indulge in, the hot, salty, buttery popcorn is a favorite for sure! Now, if I can just get them to add the scent to the part in Soarin' where they come over the park, my life would be made.
Jungle Julep – 8/10
Find it at: Bengal Barbeque
On a hot day this really hits the spot. The fruity (pineapple, grape, orange and lemon) slush flavors blend together for a sweet and refreshing drink. I love the thick, smoothie style straw they provide with it and the fresh fruit wedges.
Mickey-shaped Beignets – 10/10
Find them at: The Mint Julep Bar
Let me tell you why these get a perfect 10. For $8.49 you get 6, that gave our family of 5 one for each person, PLUS one for the kids to fight over! That's a great price for a snack in Disneyland that satisfies everyone! They are warm, sweet, puffy pillows of goodness. They also offer them in seasonal flavors for fun variety! Get them, you won't regret it.
Churro w/Caramel Dipping Sauce – 8/10
Find it at: Cozy Cone Motel
If you are going to pay over $5 for a churro, it had better be amazing, right? I am in the minority of people who would prefer to pay $1 for a churro at Costco than $5++ at Disneyland. But my kids think they are the best food in the park. Then, we discovered the caramel dipping sauce at the Cozy Cone Motel and I was sold. It is PERFECT caramel sauce. I wanted to lick the little serving cup it came in. The price for a churro, I don't love. This caramel sauce, I LOVE!
Churro Toffee – 10/10
Find it at: Bing Bong's Sweet Stuff
Don't pay attention to my chipped nails, wrinkles or anything else. Look at that toffee!! I got some just to see what all the hype was about and 2 bites in I was regretting the fact that my children had seen it already because that meant they wanted some too. This is a treat that is much too good to share, especially with children who are satisfied with Dum Dum suckers. I'm a big toffee fan and this really was amazing. It is coated in white chocolate and then a cinnamon and sugar mix. I don't love white chocolate, but on this, it totally worked! A few weeks after this trip I convinced my friend to bring me some home from her trip just so I could have it again!
Tigger Tail – 10/10
Find it at: Pooh's Corner Bakery
We are big marshmallow fans at our house so taking a wand of them and dipping them in caramel and then chocolate just tips it over the top for us. If you aren't in the marshmallow fan department, move along. They also sell this in an orange colored white chocolate, but I prefer milk chocolate.