Minecraft Birthday Party Ideas
My son spent the entire summer getting increasingly obsessed with the video game Minecraft.
When his birthday came along in October, it was a no brainer that a Minecraft Birthday party
was exactly what he wanted.
I had a lot to learn about Minecraft. It's a whole new world with characters like the Creepers, Gast, Steve, Alex, animals, food, and so many minerals! It actually turned out to be a great chance for him and I to connect over something he really loves.
Fortunately for me, Minecraft has been around for a long time, so there are already lots of great
resources and ideas out there, but I hope you find it helpful to have all of the resources I used
here in one blog post.
Minecraft Birthday Party
Minecraft Invitations
In my exhaustive search for Minecraft party ideas that I could actually replicate, I came across
this post that had lots of really fun ideas for the invitations.
I went to this website for the cube template.
After downloading the template I simply inserted it into a word document, increased the size to fill the page and then created text boxes over it to insert the text.
Then I printed them in color on cardstock paper.
My son and the party guests thought they were amazing!
Minecraft Decorations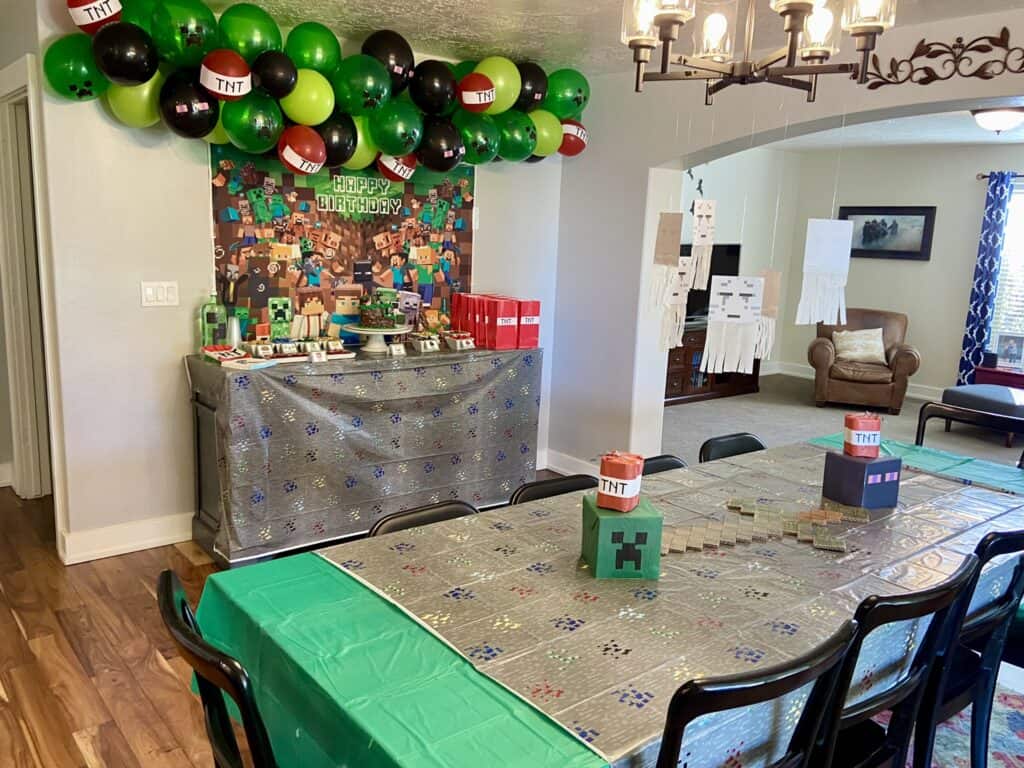 I started my party room focal point with a minecraft themed backdrop. It measures 5 feet by 3 feet and was perfect to help theme the space.
Above that I created a balloon garland. You can buy Minecraft balloons, but I didn't want the faces to get hidden or placed upside down in my garland, so I added the printed elements after I hung it.
I did this by printing and cutting out the faces for a creeper, enderman and TNT and using clear packing tape to attach them.
Just make sure you don't add them too far in advance of the party. Adding tape to balloons will
increase the likelihood of them popping.
To create an easy balloon garland, you can use this balloon garland tape, but I always just use a length of fishing line threaded through a needle.
I use the needle to thread the balloons onto the fishing line by inserting it through the belly button of the balloon and pushing them all the way to the other end (that I have tied into a loop and wrapped around a helpful door knob).
I used about 60 balloons in this garland. I always inflate a handful only 1⁄2 way and leave them out so I can tape them in place after I hang the garland to fill in any spots that need it.
I used command strips and hooks to anchor the balloon garland to my wall.
I draped a Minecraft tablecloth on both tables and accented with boxes
I covered in construction paper to look like characters from the video game.
Then I printed out some Gast and added white streamers to the bottom of them to hang from the chandelier with a length of fishing line.
Near the entrance, I hung black and purple streamers and added a sign at the top for a Nether
Portal. The boys loved walking back and forth through the streamers throughout the party.
Minecraft Food
Because we were holding the party between meal times, we kept the food pretty simple. What
do 8 year old boys love? CANDY!
So, even though a lot of these could be food options, we went for the treats! When it came time for cake and ice cream, I told the boys not to worry about the candy, because I put a little of each item in their party favor bag to take home.
I got the free printable food labels from Catch My Party . Here is what we did for each item:
Redstone: Red gumballs
Slime Balls: Green gumballs
Golden Apples: Gold gumballs
Coal: Mini Oreos
Bread: Mini Nutter Butter cookies
Cookies: Mini Chips Ahoy cookies
TNT: Red Licorice cut in half and wrapped with these wrappers Gold: Rolos
Diamonds: Cookies and Cream Hershey's Kisses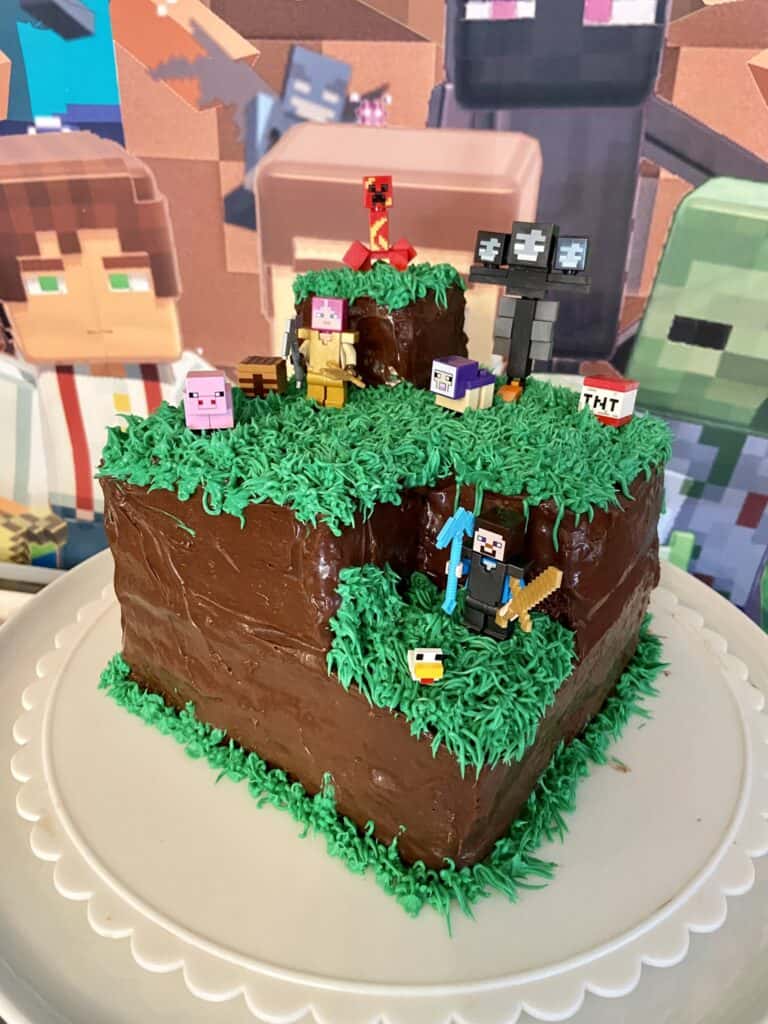 For the cake I used 8 inch square cake pans to make a 3 layer cake.
After stacking them with buttercream in between each layer, I coated the exterior with chocolate frosting. I cut a square out of the top layer and added it to the top corner.
Then I used this Wilton Grass frosting tip and lots of green frosting to add grass to the entire top surface. To finish, I added some Minecraft Lego figures my son had in his vast Lego collection.
Minecraft Party Activities
This was where the Minecraft party got really fun!
Minecraft Pin the Tail on the Pig
I followed a picture I found online and recreated the pig using construction paper. I made long,
thin tails to have the boys pin on the pig.
Minecraft Swords
My amazing neighbors own a business and have a large cutting machine and printer. They were gracious enough to cut these swords out of cardboard for me and they turned out amazing!
I was planning on cutting them out by hand, which would have taken me a long time so I was very grateful for their help!
I had the swords waiting at their spot when they arrived at the party with cups of washable markers and they got to color while we waited for all of the guests to arrive.
Minecraft Bingo
I printed these Free Printable Minecraft Bingo cards and created a Creeper
punch board for prizes. Once they got Bingo they got to use their sword to kill the Creeper and
see what was inside. I filled each cup with candy and one of these Minecraft figurines.
Minecraft TNT
Using 2-liters of diet soda and Mentos candy, we exploded the TNT in the backyard. We tried to
measure the different soda, and Diet Coke definitely went higher than Diet Dr. Pepper. We used
4 Mentos per 2-liter and the boys thought this was totally awesome since we let them do the
exploding.
Minecraft Hunt for Food
We scattered dozens of plastic Easter eggs in the backyard and had the boys hunt for them.
Each color was assigned a point value that we kept a secret until it was time to tally up the
score.
They were so surprised! Some only gathered 4 eggs but because they had a high point
value they won over those that collected several at a low point value.
The winner got another Minecraft figurine.
Minecraft TNT Walk
I searched Minecraft clipart images and printed out large version for our TNT walk. While music
played they walked around the outside of the circle. When the music stopped, the kid that
landed on the TNT was "exploded" out of the game. The last one standing got another Minecraft
figurine.
Steve vs. Wolves
Played like Sharks & Minnows, this game was great at getting their wiggles out! This really
helped them work up an appetite for the cake and ice cream we served.
Minecraft Treasure Hunt
My daughter spent a lot of time building a huge house in Minecraft. Then she hid treasure
chests throughout the house with diamonds inside. The boys took turns going throughout the
house trying to find and open a treasure hunt. For some of the boys, this was their first time
playing the game and they loved it!