"He Said She Said" Bridal Shower Game (Free Printable)
Here is a free printable for a "He Said She Said" bridal shower game. Super fun game for friends and family of the bride-to-be.
A few months ago I was at a family gathering talking with my aunts about how busy life was. Between work, school, and wedding planning, I was swamped! After hearing about everything I had going on, they volunteered to plan a bridal shower for me. Tell me that's not the most thoughtful thing!
Of course, I was more than happy to accept their generous offer, and this weekend we got to celebrate all together. Since my wedding is coming up in the next 2 weeks, my friends and family gathered for a pink and gold bridal shower party!
They did an amazing job putting everything together. With yummy food, cute decorations, and fun games, it was a memory that I will cherish.
Here is a picture with everyone who came. We had a pretty good size group, which made things fun.
I thought I'd include some pictures of the decor, since they made it look so cute. The blown up picture was actually a gift that I am OBSESSED with. It was such a sweet surprise.
When it comes to decorating for a bridal shower, bachelorette party, or small event, it is great to have a color palette to work with and some simple decorations.
You can see that they went with a pink and gold theme, which I thought was super cute.
As far as decorating goes, they used a large balloon arch, Love sign, the advice table and blown up photo, and a few mason jars with flowers to theme the space.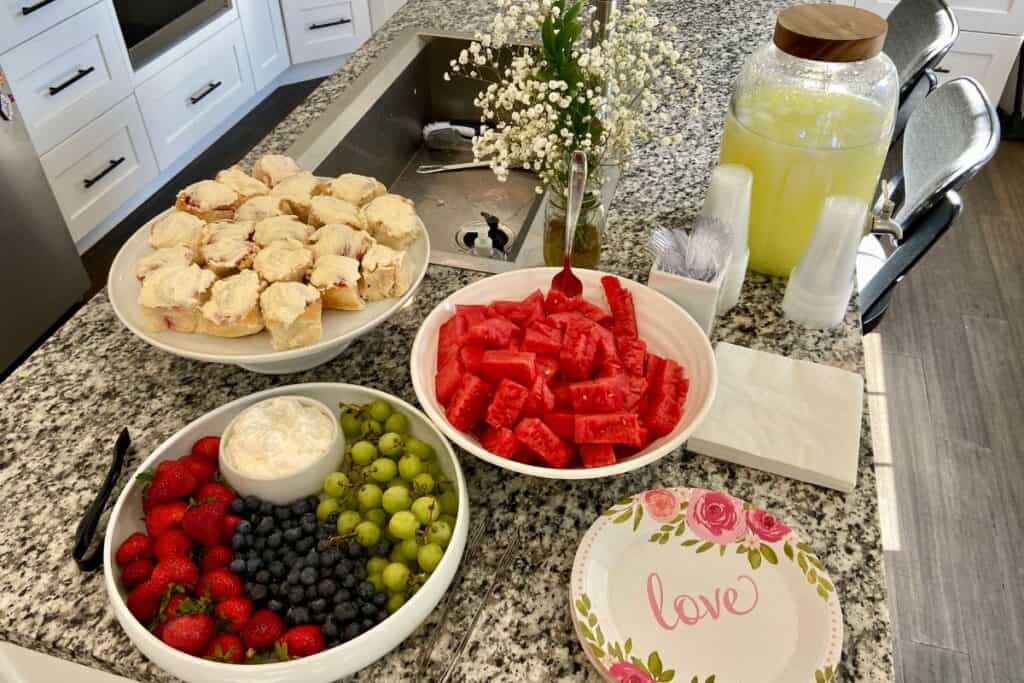 For food, they went with a brunch style menu. There was fresh fruit, sweet rolls, quiche, and lemonade.
As guests arrived, each girl filled out advice cards and then grabbed some food. People mingled for a bit, and then we moved on to some games.
For my party, we played a game called "He Said She Said" or "Lips and Mustaches" and did bridal shower bingo.
How to play "He Said She Said"
This game is GREAT for parties, because it requires very little set up.
Before the game, have the bride send in a response for all the questions to the person who will be hosting the game. Then at the event, have guests fill out their game cards. Once people have finished making their guesses, go through the questions to see who got the most correct.
My aunt actually made little sticks to hold up that had lips or a mustache hot glued on. For each question, people would either hold up their lips or mustache stick to demonstrate who they chose for that question. I definitely think it is fun to play with the props, but not necessary.
I really enjoyed playing this game and seeing what everyone's guesses were. Were we surprised when my maid of honor got the most correct? No, but it was still fun to play with everyone.
"He Said She Said" Bridal Shower Game
Lips and Mustaches Printable
So, if you're looking for a fun bridal shower game to play, definitely try this one! Another good one is bridal shower bingo.
Let me know if you try either game at your next bridal shower! And let me know if you have other fun bridal shower game ideas. I'll probably be planning one for my sister in the next year or two, so I'll need ideas!