I asked my husband what type of party he wanted this year for his birthday and just like every year he said, "I just want my family over for cake and ice cream". Well, I took that and ran with it! 🙂
Ice Cream Party Ideas
I used my Silhouette machine to cut out the ice cream cones and scoops and then turned them into a garland by attaching them to a cream grosgrain ribbon. In between every two cones I added a tuft of lime green tulle. I created the 3-D cones from craft paper (using this template) and color coordinating balloons. The table cover is actually three that I cut to the size I wanted to create the "Neapolitan ice cream" striped look.
I made an ice cream scoop garland to drape across the front of the food table using paper scoops, ribbon and more tulle ribbon.
I turned ornament hangers into cone stands for the table centerpieces and scattered ice cream scoop confetti on the table.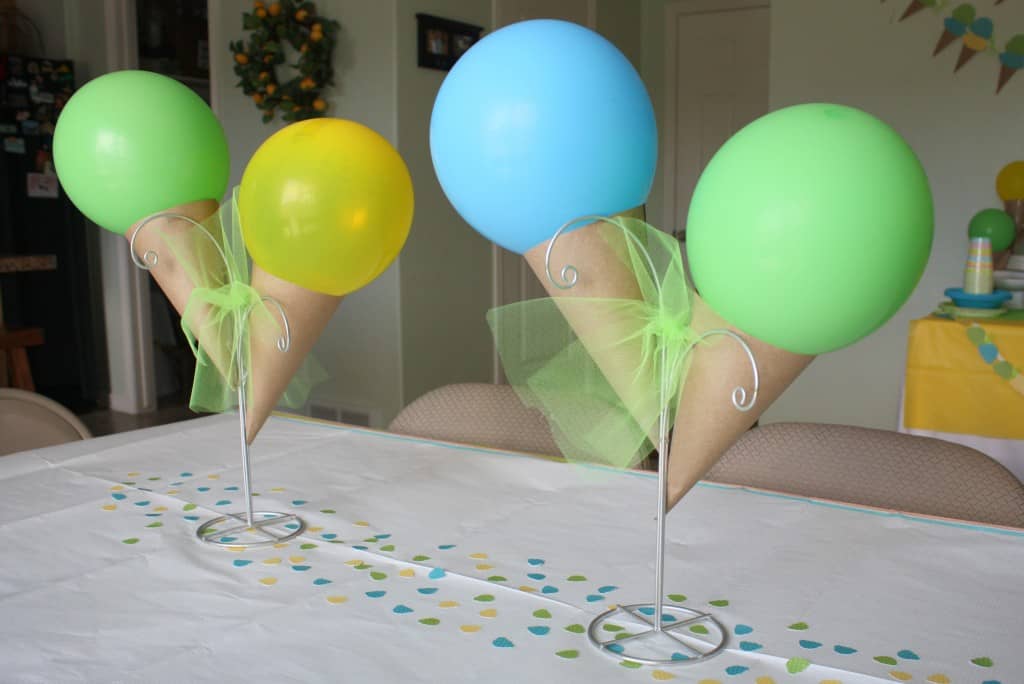 Guests had 3 flavors of ice cream and 14 toppings to choose from. The clear plastic toppings containers were only $2.50 at Walmart! I got the platic squeeze bottles at Orson Gigi for $1.50 each (but you can get them here for the same price: Plastic Squeeze Bottles
) and I made the three levels for the toppings to sit on by wrapping 2×4's in plastic table cover.
I made strawberry cupcakes in the ice cream cones (they were a little messy – don't fill them more than 1/2 way) and topped them with vanilla frosting.  To bake them I put them in a muffin tin.
For the favors guests were given an ice cream cone bubbles (3 for $1 at Dollar Tree), Ice Cream Cone Sidewalk Chalk
(3 for $1 at Walmart) and an ice cream cone popper (12 for $3 at Zurchers).
I made the cone stand (tutorial shown in this post) out of cardboard and my trusty glue gun.
Unfortunately, this is the party that never happened. I set everything up on a Friday and that night my daughter got the flu and we were up all night taking care of her. We sent everyone a message on Saturday telling that the party was postponed until the next Saturday. But then during that week my husband, his mother and his sister all came down with the flu so we ended up just cancelling it so that we wouldn't spread the "love" to anyone else. Luckily, my niece had a birthday that same week so I was able to donate all of the goods to my sister for her party – hooray for birthdays and parties that actually get to happen!
If you are planning your own ice cream themed party you could include activities like: pin the cherry on the cone or a blind folded ice cream flavor guessing game. 🙂