Hole In One – Golf Themed First Birthday
Want to have a golf themed First birthday party? These ideas are everything you need to have a fun event for your little one, turning one!
My very talented friend Amy did the most adorable golf themed first birthday party for her son Beckett. From top to bottom, the theme was carried out in so many fun ways and she did it all herself – which means you can too!
She encouraged guests to wear their coolest golf apparel and gave prizes to the best dressed. They played a little putt-putt, ate some delicious food and the birthday boy had a great day!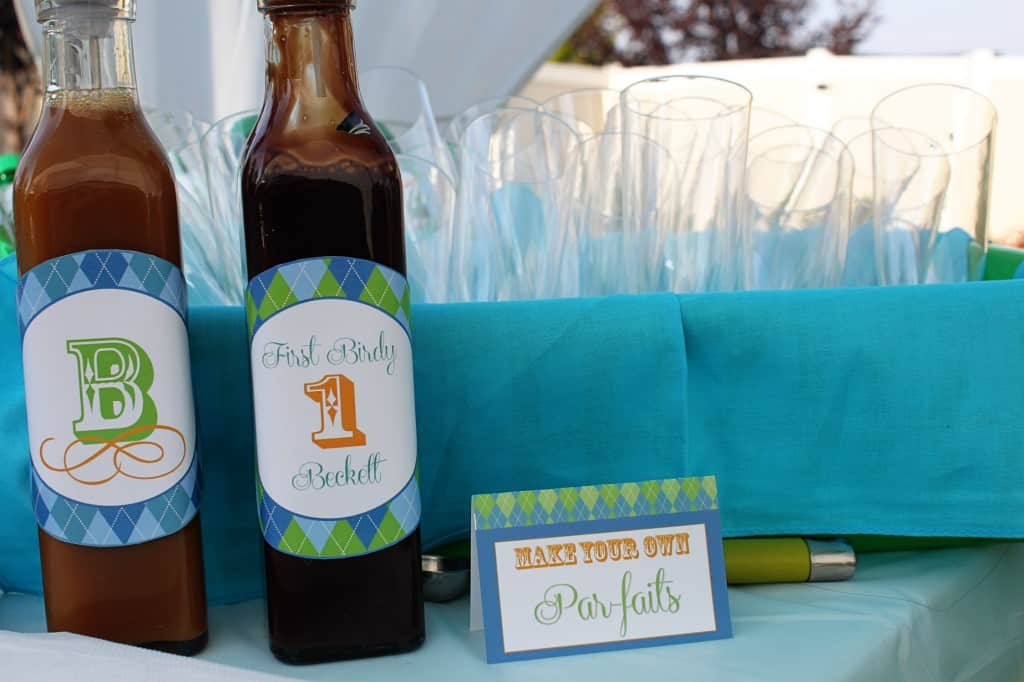 Here are some tips from her to keep in mind:
She purchased a 5 point tent for $99.00 to provide some shade from the hot Summer sun. You could easily use the 10 x 10 pop-up tents (I have 2 you can borrow) as well. When hosting an event outdoors this helps define the "party" space and allows you to concentrate your decorating there instead of trying to spread it out across your entire backyard.
Can't find scrapbooking paper to match the theme? She purchased a digital paper packet from etsy for $8.00 and used that to design the logo and food labels. That $8.00 went a long way in helping carry the theme from one end of the party to the other.
She didn't own all of those apothecary jars for the candy, so guess what she did (and you should do too) – she borrowed some! There is no reason that you should house an entire inventory of party supplies. Also, I love that she used smaller jars, they were appropriately sized for the number of guests she was expecting. Filling giant candy jars is expensive!
Don't you love the grass details on the table? She purchased a flat of wheat grass at Whole Foods market, but if you prefer, you can plant some yourself really easily (here is a tutorial) in one week. Or, right now there is a ton of "grass" out there with all of the Easter decor. Pick some up at the after holiday clearance sales!
Let yourself off the hook, you've done a lot of planning, prepping and decorating. Let someone else (Jimmy Johns in this case) make some of the food!