My Little Pony Party Ideas
For my daughters 5th birthday she was so excited to have a My Little Pony Birthday party! I searched the internet for great My Little Pony party ideas and found so many that it made putting this party together super easy. Now, you know I love to get my DIY on when it comes to the decorations, but I've been really sick with my pregnancy so this party was all store-bought – and honestly, it turned out so great. My daughter kept saying, "ADORABLE!" as I was setting up the decorations the night before, so I knew I was on the right track!
MY LITTLE PONY DECORATIONS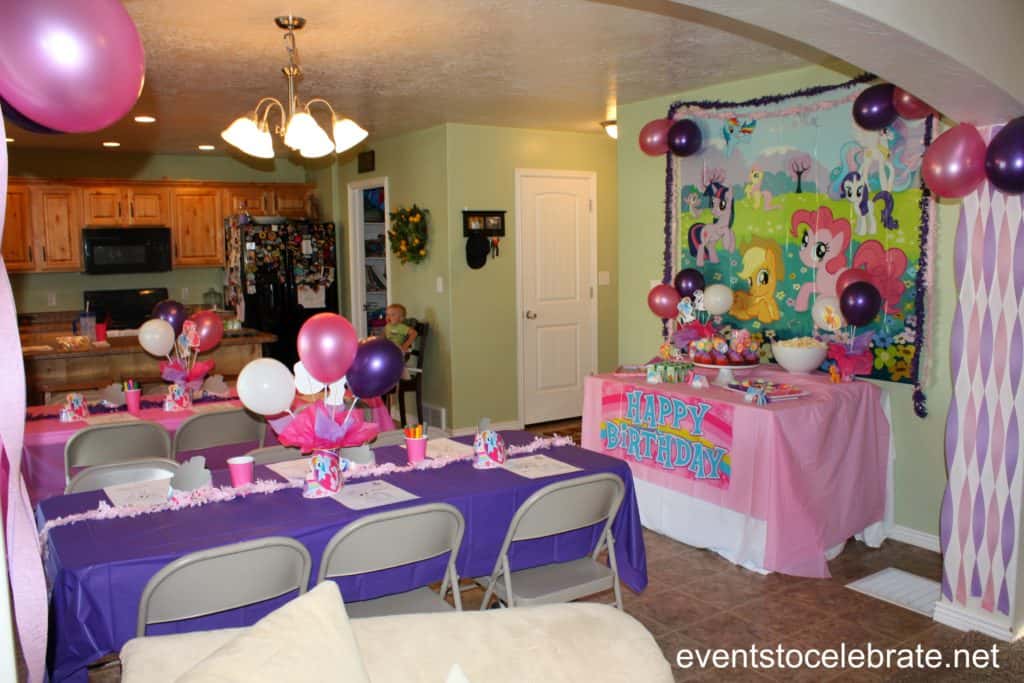 Today I'm going to share all the decorations and food with you and link you to where you can get all of it. I shopped at Walmart, Zurchers (a Utah based party supply store) and Amazon (gotta love PRIME!!). I also quizzed my daughter about the characters and watched a few episodes to get familiar with all of the characters so we could really make this all about My Little Pony!
I covered the tables with a plastic table cover and then ran festooning down the center (from Zurchers). For the centerpiece I used a My Little Pony plastic cup from Walmart and filled it with two pieces of tissue paper held down by a square of floral foam. Then I added a few balloons on sticks (all from Zurchers) and a few printed and cut out pony pictures that I just copied and pasted from the Hasbro My Little Pony website.
Each girl had a party crown from Walmart at their seat when they arrived. 
The My Little Pony Scene Setter backdrop was the best purchase! For just a few dollars it really decorated the whole space! It is plastic and you can just tape it to your wall! I added some pink and purple tissue paper festooning around the edges that I purchased at Zurchers and a few balloons to complete the backdrop. On the table I added two more of the balloon centerpieces described above. 
MY LITTLE PONY PARTY FOOD
I had big plans to do more elaborate food, but I was really sick the day before her birthday and just didn't make it happen. But, the girls LOVED this and all giggled as I described to them what they got to have. We served: Apple Jack's Apple Juice, Pinkie Pie Cupcakes and Rainbow Dash's Rainbow Sherbet. I also popped a bunch of popcorn in our kettle popper and had pink and purple taffy to round out the yummy offerings.
I got the cute free printable food tents from Delicate Construction.
The cute cupcake circles are a free Printable from HaleGrafx – they also have water bottle labels candy bar wrappers and a few other cute My Little Pony printables.
I pinned a bunch of fun My Little Pony party ideas on Pinterest to my My Little Pony board – check them out! And don't forget to check out this post with all of the games and crafts we did at the party!