Wedding Wednesday: Brunch Wedding
Let's be honest, in Utah we do weddings WAY different than the rest of the world. But, most of the weddings that are done in Utah are so similar! So, I thought it would be fun to suggest a unique idea that would throw your family and friends for a loop! Not only is it a different experience than the traditional 6-8 pm open house at the church, a brunch wedding has a lot of benefits for the budget. Almost any wedding venue around has less expensive pricing for a daytime event vs. an evening affair. If you are only inviting family, chances are they are taking the day off of work anyway, and you can go one step further in the budget savings by also hosting it on a weekday. Also, if you are planning a wedding that has a very short planning period, a brunch wedding may be the only way to secure the venue you really want if it is during wedding season.
These days, weddings are so focused on the experience. That's why there is so much emphasis on selecting a theme, color palette and venue that all work together to provide your guests with an event they will long remember. That is why the brunch wedding is so much fun! Chances are, most of them have never attended one, so there aren't any preconceptions or expectations to fulfill. You really have a blank canvas to do whatever you want with! Standard "brunch" time is anything after 9:00 am and before 12:00 pm. So if you get married at 9:00 am and then start the brunch at 10:30 or 11:00 am you are golden!
Decor:
You really have to consider the venue you select. Make sure you go there at the time of day you will be holding your event so you can see how the lighting makes the room feel. Consider an outdoor venue. If the reception is taking place early on a mid-Summer day, it might be the perfect opportunity to enjoy the beautiful weather before the day gets too hot. Look for venues that may not work for an evening wedding, but would be perfect for a brunch – like a greenhouse, garden or city park that has lush greenery and blooming flowers.
I love the idea of a soft, misty color palette to mimic a dewy morning that is a little bit crisp but sunny:
Or you could incorporate the food into your decor by mixing flowers and berries in the decor:
I also LOVE the citrus color palette for a morning event to go along with the fruit you'll be serving:
Menu:
There are so many fun things you could do for a brunch because it doesn't have to be totally breakfast or totally lunch food. If you're going casual, pick a few things to feature and let your guests nibble as they visit or make it fancy by offering live stations (like the omelette or ham carving) or a plated meal.
You could include any or all of the following:
Waffle, french toast or crepes bar
Omelette station, scrambled eggs, hard boiled eggs, quiche or frittata
Spiral honey glazed ham, sausage or bacon
Sweet raspberry, orange or cinnamon rolls, croissants, bagels, english muffins, toast, sweet breads (banana, lemon, zuchini, etc), danishes, tarts, donuts and muffins
Hashbrowns or home fries
Bread pudding or rice pudding
Fruit and yogurt parfait station
Sliced fruit and cheese
Biscuits and gravy
Garden, vegetable or fruit salads
Pasta with different sauces
Fresh selection of juices and flavored waters
Attire:
Since there isn't really any precedence, you can land anywhere on the scale from really casual to really formal. The venue you select and your invitations will tell your guests a lot about what they can expect and how they should dress themselves. Make sure both of these things reflect your personality as a bride and groom and give the appropriate vibe to your guests.
Favors:
Keep with your brunch theme and send guests home with something to help them remember your special day, like:
Homemade jam or local honey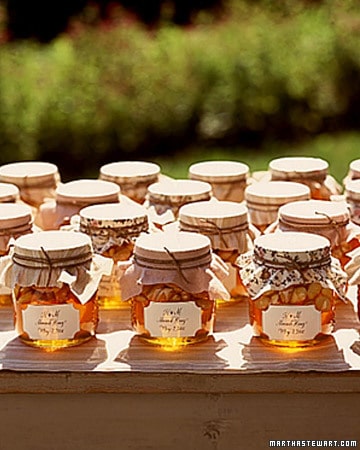 A small Simply Orange/Lemonade/Apple/ with two striped paper straws tied with ribbon and a cute tag that says, "You're simply the best!"
A trail mix station or small containers filled with premixed trailmix would be a great thing to send home with your guests.
Be original and plan a wedding brunch to celebrate your special day! You'll save on your budget, surprise your guests, and best of all – you'll be off to your honeymoon by late afternoon!
Image credits: Misty wedding, misty wedding waters, flowers and berries, citrus wedding, brunch menu, honey, trail mix