10 Easy Unicorn Party Treats
When I started doing searches for unicorn party treats, I was shocked by how complicated they were. Dying cake batter into 10 different colors and layering them one by one was not the way I wanted to spend my pre-party prep. So, I made it my mission to find the simplest and easiest unicorn party treats, because they do exist! Here's my favorites of what I found.
1. Ice Cream!
This unicorn ice cream I found on Easy family Recipe Ideas would be so refreshing for a summer unicorn party.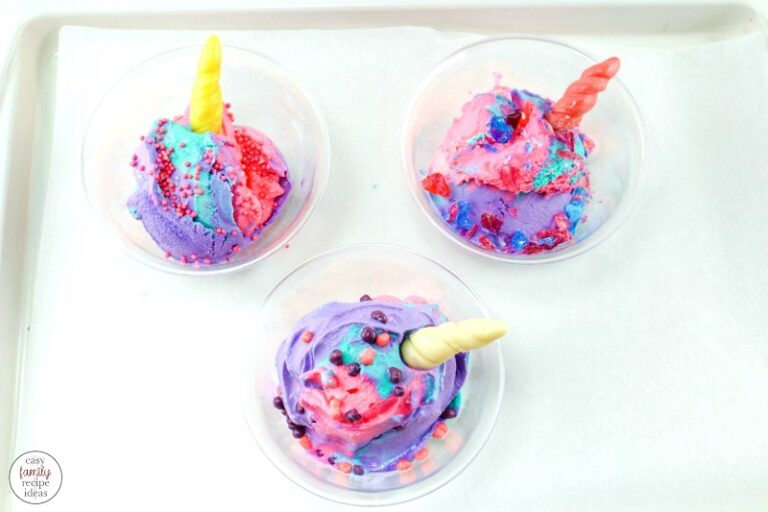 2. Rice Crispy Treats
Unicorn rice crispy treats are so easy! Just your typical rice crispy treats, and add a little bit of sprinkles to make them more colorful.
3. Sandwiches
I saw this idea at the blog, Pizzazerrie. How simple would it be, and perfect for a colorful unicorn party.
4. Sandwich Cookies
These funfetti cookies by Fun-Squared is as simple as they come! Get the recipe and details here.
5. Ice Cream Cone Treats
Dip the end of an ice cream cone in chocolate or white chocolate, and roll in candies for a colorful unicorn horn!
6. Candy Necklaces
Forget about baking altogether and get rainbow inspired candy, like a classic candy necklace! This idea from Kara's Party Ideas
7. Fruit Dip
Swirl some food coloring to make boring fruit dip into a unicorn party delight. This fruit dip, with cream cheese is one of my favorites!
8. Sprinkled Marshmallows
I saw a bunch of different complicated ways to serve marshmallows, but than I found Kara's simple sprinkled marshmallows here!
9. Dipped Pretzels
Dip the end of a pretzel rod into white chocolate, and roll in sprinkles. Call them Magical Unicorn Horn treats and they'll be a hit with the kids at the Unicorn party.
10. Popcorn Mix
Melt some white chocolate and toss in some colorful candies for this colorful unicorn popcorn mix! Grab all the candy ideas from The Suburban Mom here.
The bottom line, to make a unicorn themed party fun, anything colorful, pastel, rainbow, or horns are game! I hope some of these treats are doable for your next party!