Butterfly Themed Party: Activities
Planning an hour and a half of butterfly themed activities for a bunch of 2 and 3 year old girls was as fun as it gets! I think it was such a success because I did these things:
At the very smart recommendation of my sister, I alternated the activities from things inside and outside, at the table and up moving so they wouldn't get bored.
I set up my kitchen counter top with all of the activities all ready and lined up so when it was time to move on to the next one we just grabbed the stuff and started it. I also kept a list of the order I wanted to do things on the table because I didn't want to forget anything!
We moved from one activity to the next after about 8-10 minutes so it kept the pace going and their little minds and bodies moving.
I had my sister and two of her daughters come and be helpers. My sister took photos (thank you so much!!) and her daughters and I assisted the little ones.
Butterfly Themed Party Activities
1) Dress-up with Butterfly Wings & Headbands:
As each girl arrived they got to select a set of butterfly wings and headbands (both from the Dollar Store). They could play with toys while we waited for everyone to arrive. Then we got them all lined up for a photo. It was nice to do this at the beginning of the party because they weren't all sugared up yet. 🙂
2) Lunch
Once everyone had arrived we each took them to the lunch table and made them a plate. They sat at the table and were so polite during lunch – only one spill! That's a record at our house!
(my daughter is such a soda guzzler – she gets that from her Daddy)
3. Butterfly Craft – Decorate Card Stock Butterflies:
After lunch we cleared the plates and let the girls do a craft. They colored on card stock butterflies and we helped peel the backs off of Foam Butterfly Stickers
 (supplies from Hobby Lobby).
4) Butterfly Sidewalk Chalk
We headed outside to our patio for some sidewalk chalk fun. I had planned on drawing a large set of butterfly wings and having each girl lay down in the middle to snap a photo of them as a butterfly – but after my failed artistic abilities with the cake, I decided we'd just let them color themselves. 🙂
5) Bubble Time
I had two hand held battery operated Bubble Guns
 and they were PERFECT! I don't know how I lived before without them! The girls had so much fun running through them, catching them and taking turns blowing them.
6) Chocolate butterfly Cupcakes
After being outside it felt good to head inside. Each girl got a strawberry cupcake and selected from three frosting colors to top it with. Then they got to add sprinkles and some chocolate butterfly wings. I made the wings by piping melted candy melts onto wax paper following this tutorial.
7) Glow Bracelets & Dancing
We closed the blinds and turned out the lights for our dance. Each girl got Glow Stick Bracelets

and we turned on some party tunes and danced around. My daughter LOVES to dance. We played
"Call Me Maybe" by Carly Rae Jepsen (a few times),
"Party in the USA" by Miley Cyrus,
"Brokenhearted" by Karmin and
a few songs by Cher Lloyd.
A few of them seemed apprehensive at first, but I just led them through some dance moves (twirling, shaking their hands, doing the twist, clapping, etc. – I felt like I was teaching aerobics) and they all jumped right in.
8) Butterfly Nets and Small Balloons
For our last activity we took the girls back outside. Each girl got a butterfly net (to take home) and I had blown up about 35 small 5″ balloons. We popped them up in the air and they got to catch them. They ran them all around the yard, tried to get as many as they could in the net, put their nets on their head and just had a great time!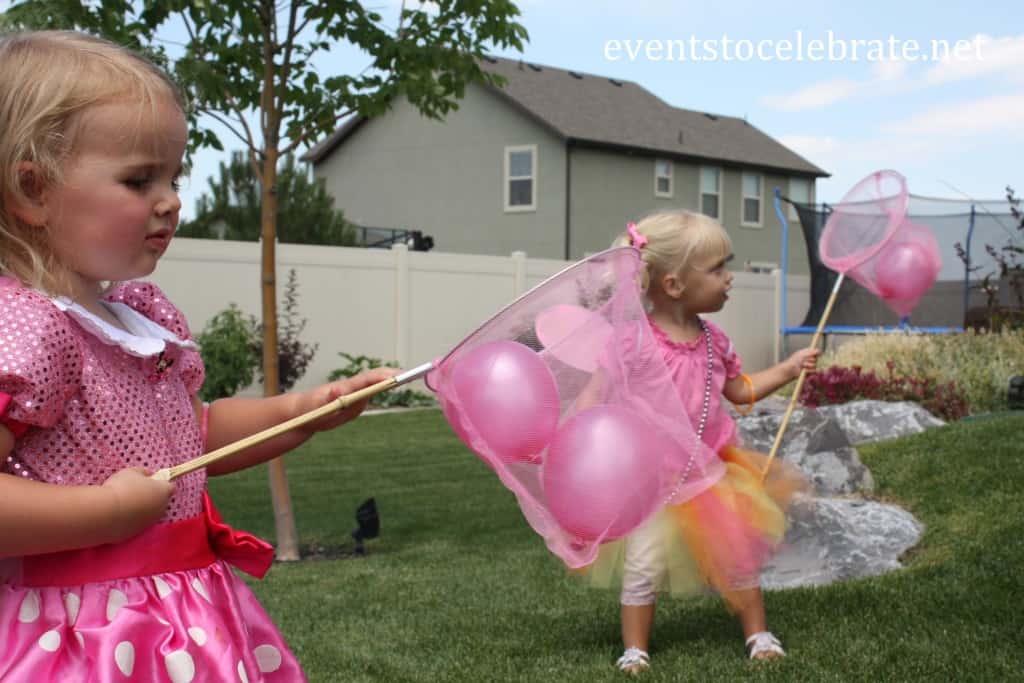 Then we sent them home with a favor box filled with suckers, taffy and gummy butterflies along with their wings, headbands and a net full of little balloons. It was so much fun and my little Lucy was SO happy the entire day – which is all I was hoping for! I love her to the moon and back, she is the brightest light in every single day and I'm so happy we have her to fill our lives with happiness and love.
READ NEXT ABOUT THE BUTTERFLY PARTY THEMED
-> Decorations
Pin and share!