Butterfly Birthday Party: Food & Desserts
If you're looking for ideas for butterfly themed party food and treats, this is the place!
Check out the post for the Butterfly Party Activities here, and decorations here!
Did you love the butterfly decorations? I did too. They were so much fun to put together. The food and desserts were equally fun and they were delicious! I looked for items that either fit the butterfly theme or the color theme – that way they would all coordinate.
Butterfly Themed Party Food:
I held two different parties – one for the family to come for dessert and another for little friends. So, let's start with the dessert party:
Soda:
For the beverages I purchased Strawberry and Orange Crush for the pink and orange colors and Jarritos pinneaple for the yellow (it is a Mexican soda and can be found on the ethnic food aisle). Then I just added a 2″ printed butterfly taped over the logo of the bottle.
Cake:
Oh, the cake. I had such grand visions of a perfect cake. Unfortunately, the vision in my head didn't come out of the piping bag all by itself. I guess you need to actually have some cake decorating skill in order to get what's in your head. 🙂 The frosting didn't blend from one color to the next and the chocolate butterflies that I piped out onto wax paper didn't stand out as I had hoped, but it tasted good!
I made three 9″ round cakes in the three party colors. For the pink layer I used a strawberry cake mix (I made the rest into cupcakes for the friend party). The middle and top layer were a yellow cake mix with a bit of food coloring added for the orange layer. I made homemade cream cheese frosting because I don't like the flavor of shortening based frostings.
Lemon Bars:
I included lemon bars for an extra sweet treat. They are one of my favorite desserts and they matched the color theme – double score! I love all of the recipes from Mel's Kitchen Cafe that I have tried and so although I hadn't had this recipe before, I knew they would be good. They didn't disappoint – they were perfectly tart, sweet and buttery. Give them a try!
Fruit:
For those who wanted a less sugary dessert, I also served fruit kabobs. Keeping with the color theme I served pineapple, cantaloupe and watermelon that I cut using a Butterfly Shaped Cookie Cutter
.
Favors:
Guests got to take home Salt Water Taffy in the party colors, chocolate mold butterfly suckers that I made using chocolate candy melt and Butterfly Gummy Candy
(purchased at Winco).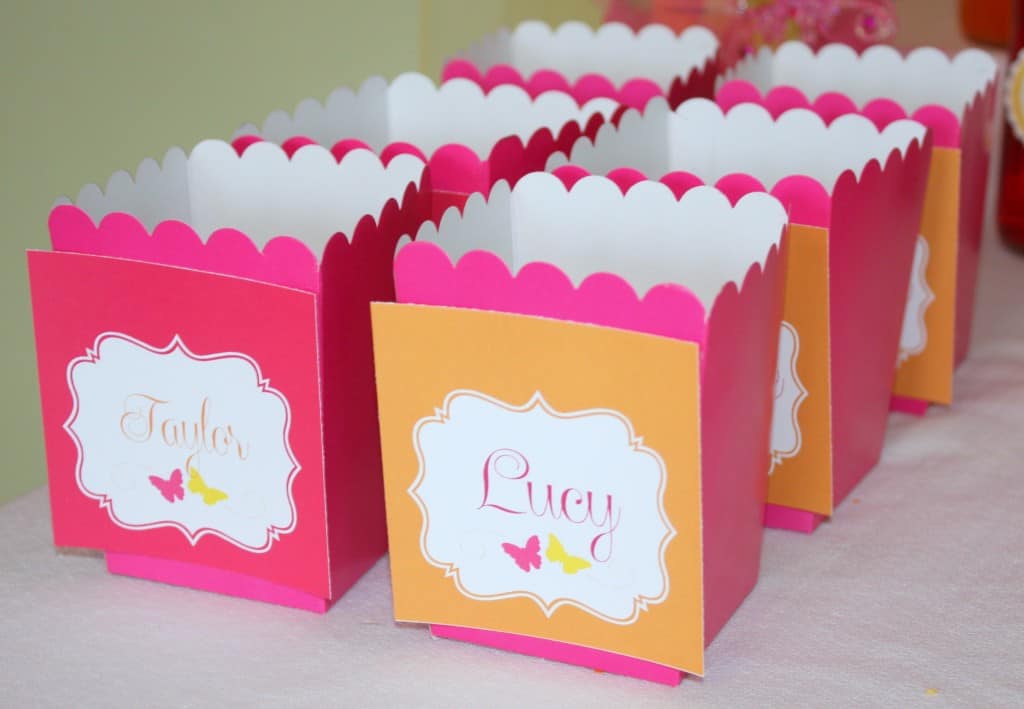 At the party the following day for her little friends I served many of the same items, but added a few to turn it into lunch.
Butterfly Sandwiches:
I used a butterfly shaped cookie cutter to turn ordinary white sandwich bread into cute little butterfly PB&J's.
Butterfly Crackers with Cheese:
Pepperidge Farm Golden Butter Crackers
come in the shape of a butterfly! They also have a box called "Cracker Favorites" that contain butterfly shaped crackers. I found them at my regular local grocery store. I simply paired them with some string cheese or cheddar cheese for a simple tray.
Chips:
To continue with the color theme I offered plain potato chips as well as cheetos (what toddler doesn't love cheetos?).
It was fun to brainstorm ways to incorporate the butterfly or color palette into all of the food details! Stay tuned for the details on all of the activities we did at the party!
Looking for more Butterfly Themed Party Ideas:
Click Here for Decoration Ideas
Click Here
for Party Activity Ideas