The Very Hungry Caterpillar Party Affordable Food & Decor
Our latest party for a one year old, on a budget! This fun and adorable Very Hungry Caterpillar Party will wow your guests.
Whether you're a party planning novice or a total pro, this party theme is so cute!
The best part? You don't even have to come up with the menu! The original book The Very Hungry Caterpillar, authored by Eric Carle, tells you exactly what to make. A few simple decor items added and voila, the perfect party.
Let's talk about food first, since our star character Caterpillar had quite an appetite.
The book is basically your shopping list…with a couple tweaks.
The Very Hungry Caterpillar Party Food Ideas
Monday to Friday was a simply fruit based diet so I went through the pages and *add to cart.*
Saturday however I took some liberties. Those were:
Chocolate Cake: I used chocolate cupcakes. Why? Cupcakes can just be so much easier to prep than a full cake, serving is easier, and in this case I could use cupcakes to create a super cute sort of pull apart display in the shape of (of course) our Very Hungry Caterpillar. Food doubling as decor is always a good idea, right? I could have even added more cupcakes if I wanted and made my caterpillar a little more plump and ready to build his cocoon, or I could have done mostly cupcakes and a full cake as the head to use in a more traditional cake smash photo (as opposed to a cupcake smash which is what we did).
Swiss Cheese: I knew for a fact no party guests would actually grab swiss from the platter and I didn't want to waste it. Instead, I bought white cheddar and used my piping tips to put holes in it, giving the appearance of swiss but with better flavor (in my opinion).
Lollipops: Lollipops…suckers…close enough, right? Starburst Pops worked great!
Cherry (Hand) Pies: If you're a sucker like I am for crust and don't feel like making a whole cherry pie, hand pies are the way to go. Serving is an absolute breeze, they plate beautifully on my DIY cake stands (more on those below) AND they don't require forks, which means you could totally get away with napkins ONLY!
Sausage: Technically hot dogs are a form of sausage, and since we were serving this as dinner I went with it (and added burgers).
Cupcake: The picture totally looked like a muffin to me, so I made some banana bread muffins and popped the label on them as cupcakes. False advertising? Maybe.
Watermelon: I'm not sure where our caterpillar friend was sourcing his from, but it's currently January and my only option was $8 for two mini watermelons at Costco. I wasn't feeling confident they'd be delicious, so I went with a crispy rice cereal treat instead, which cost me just over $3.50 in ingredients instead. Since I didn't have mini chocolate chips at home to use as "seeds" but also didn't need to add more to my collection, I melted down some regular chocolate chips, scooped some in a baggy, snipped the tip, and piped little seed shaped onto parchment paper. I popped them in the freezer while making the watermelon (using a cake pan) and added them once it was aaaalmost cool, careful not to melt them too much but hopeful that they'd melt just a tiny bit so they'd stick!
The Very Hungry Caterpillar Party Decor
Now that food is covered, let's talk decor and presentation. I kept it pretty simple. I wanted a clear theme but not to spend a billion dollars on a first birthday party, especially since we were already hosting at dinner time so we were providing dinner as well for roughly 20 people. I'm happy to report I think I pulled it off.
Food Labels: I found this printout on Pinterest and printed it at home. Simply cut out around the food/text and tape a toothpick to the back. Five minutes of work and now everyone recognizes the theme without question.
Tissue Paper Caterpillar ($7.50): While balloon arches are all the rage, I just love these tissue paper poms! I recruited my sister-in-law and mother-in-law and they set to work using tissue paper from Target's party section. The best part is that you can make this caterpillar as large or as little as you'd like and it really becomes the center of the party. Being a party for a one year old, a (cup)cake smash was absolutely necessary (Ok, maybe not a must, but I love this trend!) so the caterpillar was designed with the arch to be right above my little guy's high chair to create a nice sort of frame for pictures.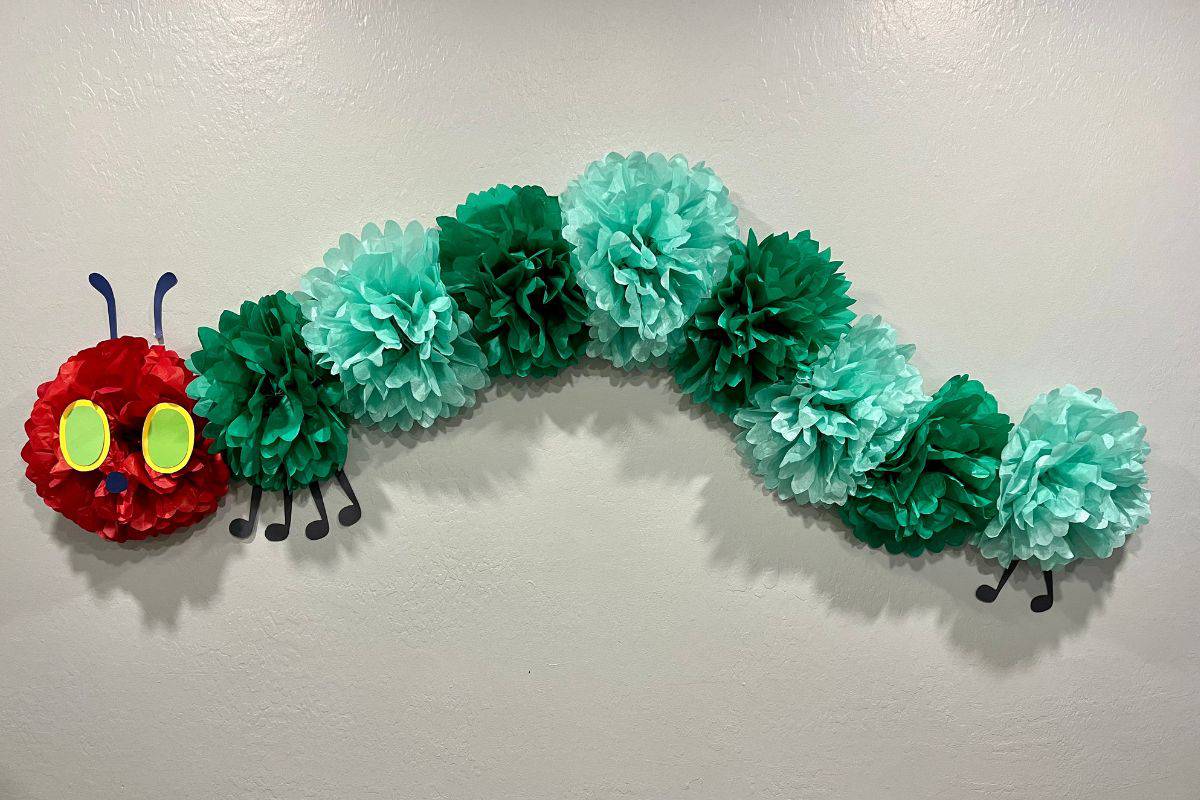 Lollipop cube ($1.00) : This is just a foam cube from the Dollar Tree floral section wrapped in tissue paper. Once wrapped, pierce with your lollipop sticks.
High Chair Caterpillar Banner: I didn't have a supply of card stock yet so I found what I needed in Walmart's scrapbooking section.
DIY Cake Stands ($2.50 or less per): These add gorgeous levels to your display. All you need is a plate and a candlestick/prep bowl, both found at Dollar Tree. To assemble, flip your plate upside down and glue the top of your candlestick or the bottom of your prep bowl right in the middle and let set. I used hot glue (pick it up by the base) so I could take them apart and store the pieces more easily, but you could use something like E600 adhesive if you're really looking to keep them together. (Pro tip: I actually used my regular dinner plates this time instead of buying more!)
Ice Cream Stand: This is an old Amazon box we drilled holes into (or you could just punch through with scissors) and covered with tissue paper. It just needs to be tall enough to hold your cones and does a great job creating levels in your display.
There you have it! A simply planned and totally cute party for only about $20.00 in decor (plus tax). I hope you love it if you try it and enjoy one of everything.