Butterfly Themed Birthday Party: Decorations
Check out the adorable decorations we used for a butterfly themed birthday party!
My daughter Lucy had her second birthday a few weeks ago. You only turn two once, so I decided to have two parties – one for family and one for her little neighborhood friends.
We had a butterfly party and had so much fun incorporating it into all aspects of the party. These butterfly party decorations will really wow your guests! There are so many fun details that I want to share with you, so I am splitting it up into three posts:
I started by selecting a color palette and contacting my friend to create the invitation and party printables. Then I went to town making the decorations!
Butterfly Themed Party Decorations
Colorful Tulle Ceiling Treatment
I purchased 6 yards each of yellow, orange and pink tulle from Hobby Lobby. It was only $.77 per yard and went a LONG WAY!
For the ceiling treatment I simply tied knots at the end of the length of tulle around a hula hoop (from Dollar Tree) and let it drape down to the sides of the table.
I secured the hula hoop to the ceiling by tying fishing line around it in a few places and used thumb tacks and glue dots to stick it into the ceiling. We don't mind a few pin size holes in the ceiling.
Colorful Tulle Table Skirt
I purchased two yards of 45″ wide muslin backing from Walmart at $2.50 per yard and used that as the base to add my three tulle ruffles.
I started by pinning the corners of the muslin and sewing in the corners so it would stay on the table (it overlapped about 12″ on the top and sides).
Then I pinned the tulle down and sewed. Don't look too close – I'm a beginner at sewing. I started with the bottom row to get floor length correct, then added the top row and then the middle row so I could be sure it was centered correctly.
Colorful Tulle Kids Skirt
I measured a 1″ thick width of elastic to my daughters waist and sewed the seam.
Then I cut lengths of yellow, orange and pink tulle and tied it in knots all around the elastic. I think it turned out cute – it won't win any awards or last for years to come, but it was perfect for the party and she loves wearing it!
Additionally, I added tulle around
the candy jars,
wheat grass containers and
on each of the chair backs to continue the butterfly theme throughout to all areas of the party.
Tulle is great because it added the soft, butterfly net feeling – without spending a lot of money.
Butterfly themed balloons
The idea to make butterfly balloons came when I was at my sisters house one afternoon and my niece was making balloon animals. I thought, "those would be the perfect center for a butterfly balloon!"
I took 4 balloons and used a needle and thread to string them together and tied the string into a circle with knots.
Then, I just looped the long balloon through the center and twisted the ends. I added a piece of tape in between each set of balloons just to keep them together a little better.
Then I hung them from the ceiling with fish line and thumb tacks. I really love the way they turned out!
Wheat Grass Decor
I looked around online for tutorials on how to grow it and found some that seemed super complicated so I actually thought about just buying it even though it was expensive. Than I found a youtube video and it was BY FAR the easiest method I had seen so I decided to try it.
It was perfect, so easy and it grew right before my eyes! This is what it looked like exactly one week after starting the process – awesome, right?! If you're not up for growing it, you can just purchase artificial wheat grass.
These were grown in the tinfoil loaf pans that are 3 for $1 at WalMart, then I wrapped streamers around the base and tulle around the rim to cover the tin.
These cute berry containers are also from WalMart and were 2 for $1. I lined the bottom in parchment paper so they wouldn't leak all over when I sprayed them with water. I didn't have sand, so I used small gravel (which I did have in the yard) on the bottom and then added a layer of dirt on top of that.
Butterfly Themed Party Printables
I knew that I wanted the three colors in a gradual fade from light to dark – to mimic an ombre effect. So, I worked with Amy at Shirley K Designs and she came up with the cutest printables!
Butterfly Banner:
I had her create 8.5 x 11 paper that faded from light to dark in each of the colors.
Then I used my Silhouette machine to cut the banner shapes and the butterflies from the remaining space on the paper.
Then I cut out the letters on some white cardstock and added them to the banner. It was the easiest thing to do – it took me about 20 minutes total.
Butterfly #2 Wall Treatment:
I thought of this idea late one night while I was trying to fall asleep. Sometimes that is when I get my best ideas. I love how this turned out. It really made a statement in the party space and was really simple to do.
I took the gradual color paper that Amy made for me and used my Silhouette to cut out the butterflies on the paper. I made sure that all the butterflies were facing the same way each time I cut them out.
Then I just laid them out on my kitchen table in the shape I wanted them. I bent up the wings on each side and used tacky tape (that play dough like stuff that is reusable) to stick it to the wall. The tacky tape was perfect because I could reposition them really easily until I got the shape just right.
Printable Party Circles
I used the 2″ circle butterfly printables on the soda bottles and the wheat grass containers. During the party, the little girls loved to peel them off and stick them on their shirt. They were all so happy to get a "sticker" as well as a soda! 🙂
Butterfly Party Invitations:
I LOVED the invitations she designed. I sent her the wording and a basic description of how I wanted them to look and it was like she could see exactly the picture I had in my mind!
They are adorable, aren't they?! I had her do them 4 to a page so that when I had them printed on glossy cardstock, they were only $.20 per invitation – can't beat that price!
Printable Party Favor Labels
I love the font she used on the printable favor labels. They were the perfect touch of something to add to the popcorn boxes I found at Zurchers. At the end of the party we filled them with candy and sent the girls home happy!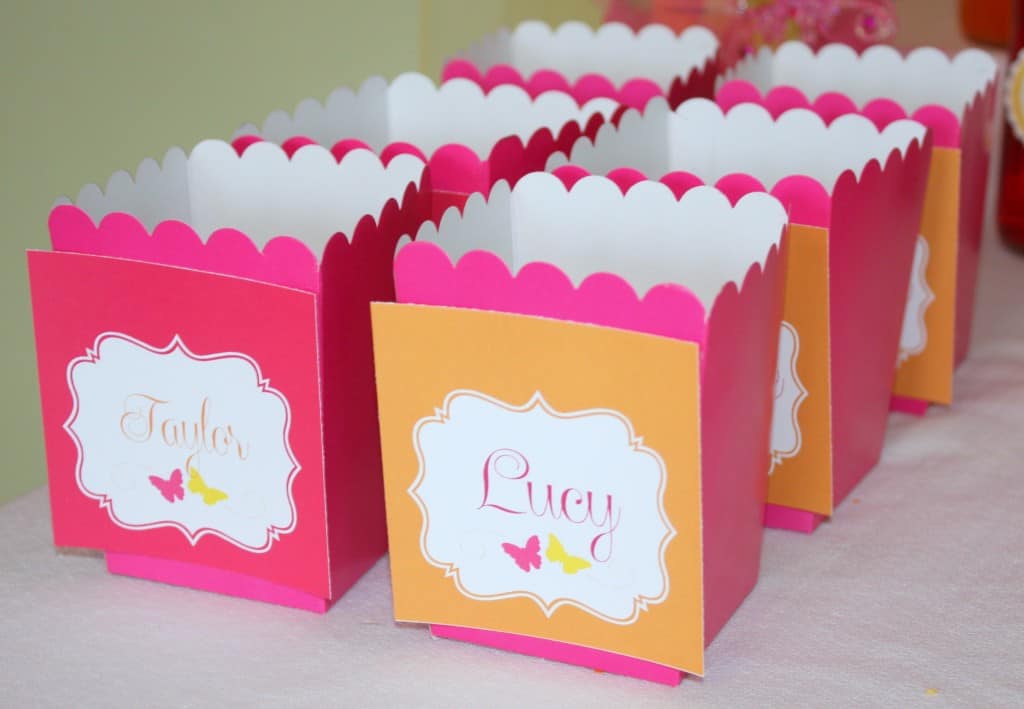 Guest Table Butterfly Garland
I wanted to add decoration to the table where guests would sit without taking up too much space or obstructing their view. When I found these butterfly garlands at Hobby Lobby – in the colors of the party – I knew it was a sign from heaven! 🙂 Just kidding. Kind of.
They came on a ribbon with cute beads and a loop at one end to go right on my kitchen chandelier and were the perfect little touch!
Colorful Archway Streamers
The ceiling in between our family room and kitchen/dining space is arched. I just added simple streamers taped up on it, but it added a nice punch of color. Everything in the room was so soft and a little bit muted. The contrast was nice to have these in the full, bold hue of each color.
Come back for the food and desserts as well as the fun activities we did at the birthday party. If you have any questions about any of the decorations feel free to leave me a comment!!
And if you like what you see, share it on Facebook, Twitter or Pinterest!
For the rest of the butterfly themed party, read these posts next: