7 Creative Valentines For School
Soon your kids will be coming home with the class list in preparation for Valentine's day. So you are going to need these 7 creative Valentines for school.
Fortune Cookies
One year the kids and I bought a box of fortune cookies off of Amazon to use as their valentines. You can type up a quick note about how "fortunate" they are to have them as a friend. Or for the older kids they can make up fun fortunes to attach and give out. It was easy, fun, and creative because you don't get a lot of fortune cookies in your valentine box.
Sticky Hands
Tired of giving/getting candy. How about a sticky hand. My kids love playing with these things and while they don't last forever (carpet and hair stick to them…ew) they are good fun while they last.
Water Bottle & Drink Packet
A creative thing to find in your valentine box would be a water bottle with a drink packet attached. I have found both the water bottle and the drink packet at my local dollar store. You can add your own cute note or print a free valentine label at Halegrafx.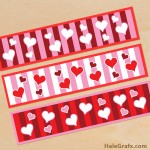 Magic Scratch
Get creative with this magic scratch heart valentine. You get to use the toothpick like scratcher to remove a layer of the black on the heart. Underneath you'll find colors that bring your picture or words to life. I've seen these on Amazon as well as on Oriental Trading.
Upcycled Crayons
Not only is this a creative valentine but it is also a super fun project to do with your kids. Check out She Knows for instructions on taking your old crayons and melting them down into new crayon.
Lip Whistles
So the teacher and possibly other parents may not love you for gifting this whistle valentine but it is sure to be a crowd pleaser among the kids. The lip whistle can be found on Amazon. They come with 48 lips for $10. The free printable to go with them is found At Second Street. Creative and super easy. You're welcome.
Heart Balloons
Love is definitely in the air with these adorable heart balloons. All you need to add to these creative valentine balloons is a simple note. You can get a free printable of "Love is in the air" from Crafting Chicks.
If you are feeling adventurous and want to break away from the Fun Dips and Airheads this year try using one of these 7 creative valentines for school. Your kids won't be disappointed.
For more fun and creative ideas for Valentine's gifts and cards look here!