Birthday Cake Alternatives
If you or your birthday guest of honor doesn't care for birthday cake, we have 10 alternative ideas for you instead of cake!
I recently posted about the Brownie Dessert Pizza I made for my husbands birthday. If you've got a birthday headed your way and the person you're celebrating doesn't care for cake or can't have it because of dietary restrictions, I've got some really great birthday cake alternatives they'll be sure to love!
I think you'll find that they won't feel like an "alternative" at all, and you may just find yourself a new tradition!
10 Birthday Cake Alternatives
1- Dessert Pizza
I made this decadent brownie dessert pizza for my husbands birthday and it was amazing. It had a homemade chocolate buttercream, homemade quick caramel sauce and M&M's® Crispy on top. It was awesome! You could do a sugar cookie base, cream cheese frosting and lots of fresh berries for a fruit pizza too – that'd be perfect for spring!
2 – Waffle Cake
If you're hosting a slumber party for your birthday boy or girl, this would be the ultimate way to wake them up! I love that Rachel at Eazy Peazy Meals used a boxed cake mix in hers. Genius! There are so many fun waffle irons on the market in different shapes that you can really play with this idea!
Waffle Cake from Eazy Peazy Meals
3- Cookie Tower
Whether your favorite cookie is an Oreo, Chips Ahoy or something else, pile them up and call it good! Serve with ice cold milk and you've really got a party going. The Birthday Cake Oreo Cookies
would be perfect for this! Oreo Cookie Tower from Fab You Bliss
4- Ice Cream Sandwiches
These homemade peanut butter cookies are only made better by one thing – the homemade strawberry ice cream sandwiched between them. Perfect for any size party because you can make the cookies large or small and pre-scoop the ice cream and keep them in muffin tins until you're ready to use them! I made the ice cream in my Cuisinart Ice Cream Maker (I got the orange one!) and we use it way more often than I thought we would!
Peanut Butter Sandwich Cookies by Events To Celebrate
5- Dipped Fruit
This is the perfect solution for kids with allergies or even if your looking for a healthier alternative. Set up a chocolate fondu station with lots of fruit options to dip or make chocolate (or yogurt) dipped strawberries with lots of topping choices.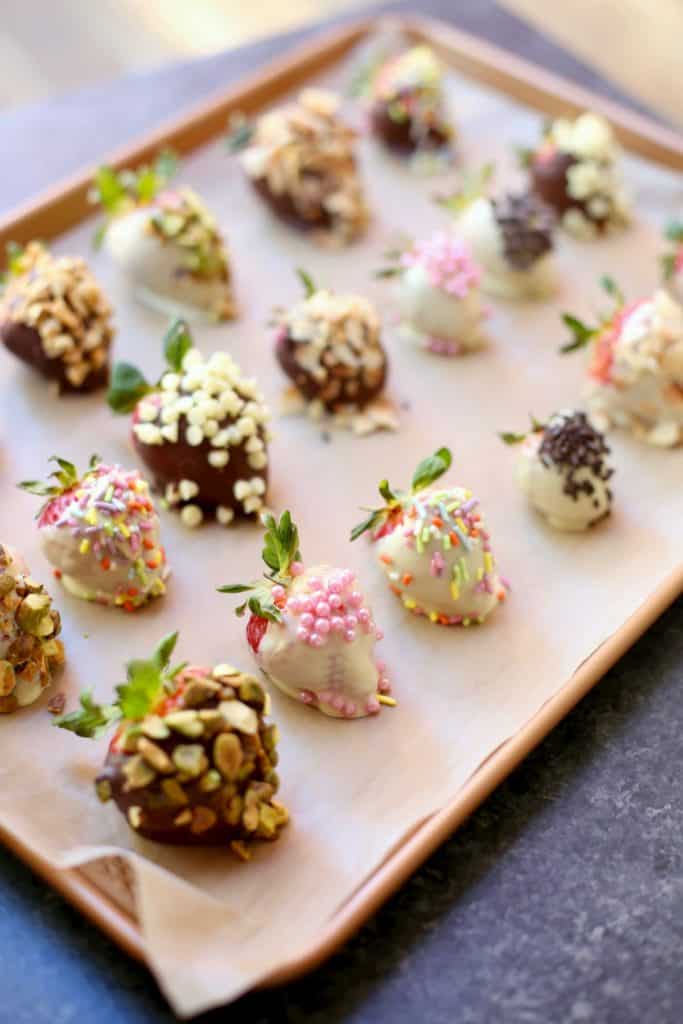 6- Ice Cream Bar
I absolutely love this option. It let's guests customize their own dessert. Simply offer a few ice cream flavors and lots of topping and sauce options and you're all set!
Ice Cream Bar by Events To Celebrate
7- Cookie Cake
I still remember when I saw Kelsey Nixon post this on Instagram when she made it for her son's birthday. It's brilliant, and she has step by step instructions on her website so yours can look (and taste) just as good! I love that you could totally customize this by using chopped candy bars instead of chocolate chips.
Chocolate Chip Cookie Cake by Kelsey Nixon
8- Build Your Own Pie
I've seen this idea done at showers, but using the snack packs really makes it kid friendly!
9 – Rice Krispie Cake
I happen to be one of those people that can eat an entire pan of rice krispie treats. So, for me, this "cake" would be heaven! Layers of treats are sandwiched with lots of frosting and sprinkles! This birthday cake alternative may be perfect for someone with allergies too!
Rice Krispie Cake by Sprinkle Bakes
10 – Donut Tower
II agree with them, that it is more striking when you have one type of donut, but mixing it up will make the most guests happy. No time to bake? Just pick up some donuts at the grocery store bakery. This would be the perfect solution to the no-cake-conundrum.
Donut Tower by Talkin Chow Playin House