Trolls Birthday Party Ideas
The links in this post contain affiliate links and I will receive a small commission if you make a purchase after clicking on my link.
We celebrated my daughters 6th birthday last week Lady Glitter style! It celebrated two things my daughter is currently obsessed with – TROLLS and roller skating! We had a Trolls birthday party for her and her friends at our local roller skating rink! It was so perfect since in the movie Lady Glitter Sparkle (aka Bridget) and Prince Gristle go roller skating on their date. I'm going to share all of my Trolls birthday party ideas here and link to everything I used so you will be all set! I was sent several products from Oriental Trading complimentary to use for the party and others I purchased from various stores.
Trolls Birthday Party Ideas
The Classic Fun Center in Orem, Utah was such a great spot for the party (and the girls had a great time)! In the past I have done all of the decorations, food and games – which is a lot of work, but something I LOVE! But, we were out of town for a month until two days before the party so it was actually really nice to know that the party would be really fun, but I would only have to do a little bit of the work.
Trolls Party Favors
This was my favorite part of the whole shebang – because I got to be crafty!
The contents of the favor bags are:
Pink Medium Gift Bags – Oriental Trading
Pink Tulle "Hair" on bags and headbands – Oriental Trading
Felt Flowers on bags and headbands – Oriental Trading
Trolls Pencils (24 pkg) – Amazon
Trolls Rings (24 pkg) – Amazon
Trolls Stickers (came in a 4 sheet package) – Walmart
Trolls Fruit Snacks – Walmart
Glow Sticks – Walmart
Plastic Headbands (4 pkg) – Dollar Tree
Blue & Green Glitter Foam (for my daughters bag and headband) – Hobby Lobby
**I used the glitter foam on my daughters bag and headband just to make it stand out a bit from the others since she was the birthday girl.
To make the favor bag I gathered a length of pink tulle that was 9″ x 48″ and used a hot glue gun to secure it to the inside edge of the bag. Then I took a small piece of tulle and tied the top to create the iconic Troll hair.
To make the headbands I followed this tutorial from my friend The How To Mom and used 18″ x 5″ pieces of tulle. I did 12 on each headband. Then I used a small amount of tulle to wrap around the top to create the Troll hair style.
Trolls Party Supplies
Since the decor had to be minimal, I wanted to make sure it was totally themed. I got Trolls paper supplies (paper plates, cups and napkins) as well as pink table covers from Oriental Trading. They were perfect and really adorable! We also had pink, yellow and teal balloons.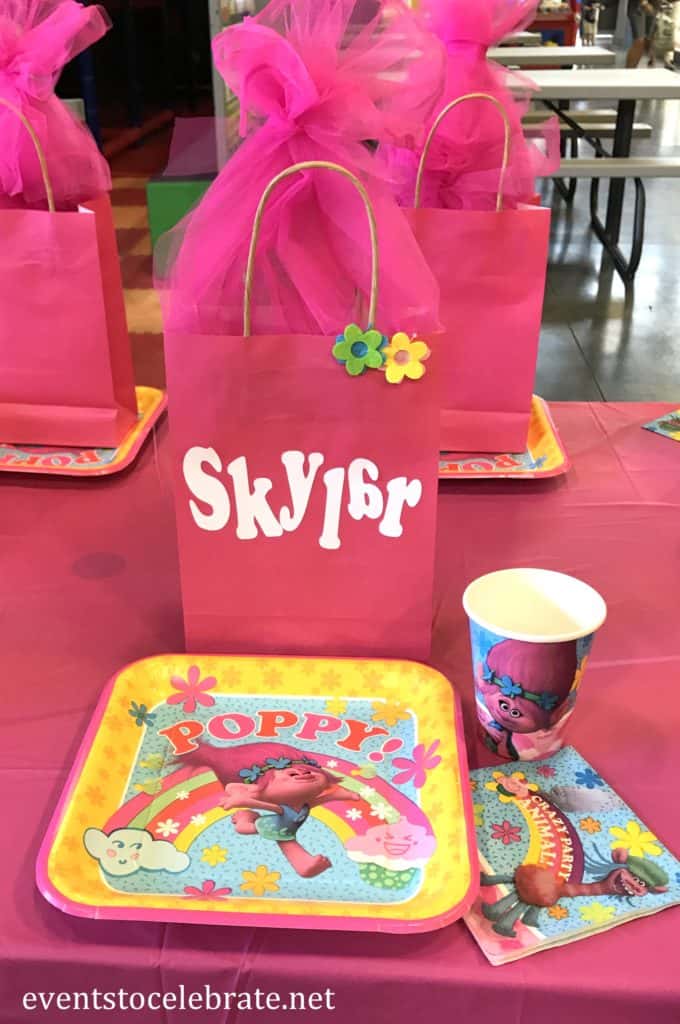 Trolls Birthday Party Cupcakes
I baked the cupcakes in regular cupcake liners and then used pink glitter cupcake wrappers that I got at Hobby Lobby around each one.
For the frosting I used vanilla frosting that I colored with Wilton food gel. I put each color in a sandwich size ziptop bag and then put all three bags into a gallon size bag with my piping tip already in place. That gave me the unicorn effect when I piped the frosting on top.
The cupcake picks were a FREE PRINTABLE party pack from DreamWorks that I linked to in my Trolls Birthday Party Invitation post a couple of weeks ago. (Don't mind my circle cutting inabilities. I usually use a circle cutter but was out of town and only had a clunky pair of kitchen scissors to work with. Not awesome.)
Here is my beautiful birthday girl. I can't believe she is 6! It has been the most amazing 6 years of my entire life! Or, to use the words of Poppy – it has been hair-iffic!