Minnie Mouse Birthday Party
Meeska, Mooska, Minnie Mouse!
One of my best friends from high school recently threw this amazing Minnie Mouse Birthday Party for her two year old daughter. The creativity is outstanding and the details are as darling as they get for this little lady's special day. I love the mix of store purchased elements with the DIY touches – it makes it feel doable, but custom at the same time! Win-win!
Let's look at the fun details:
Minnie Mouse Birthday Party Invitations: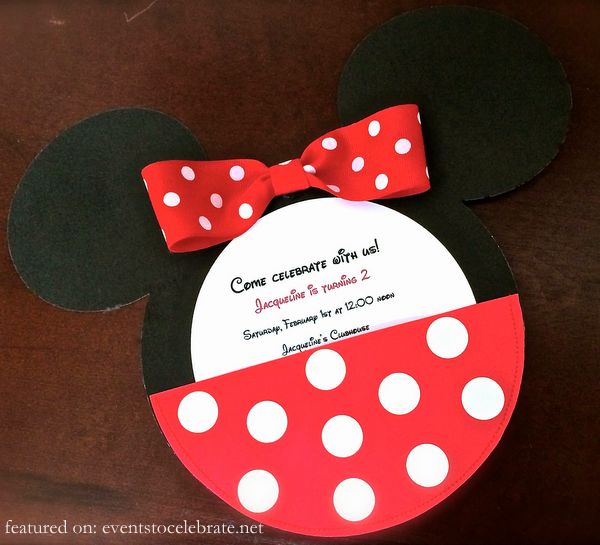 I've said it before, and I'll say it every time. If you're having a themed party, that theme has got to begin with the invitations. Let your guests get excited for the fun they'll have with a cute themed invite! These were made with an electronic paper cutter (a Cricut or Silhouette machine) and she added a grossgrain ribbon for a pop of 3D that makes it all Minnie Mouse!
Minnie Mouse Birthday Party Decorations:
This wreath is the perfect thing to let your guests know they've arrived at the right place. It would also make a darling room decoration after the party!
– Paper pinwheels added a punch of color to the party space – you can find Paper Pinwheels

in a variety of colors and sizes on Amazon.
– Little tables for little guests were covered in a simple Red Plastic Table covers
accented with a cardstock cutout of Minnie Mouse.
– Hanging over the food display are red Tissue Paper Pom Poms
and black Paper Lanterns
that are accented with cardstock ears (one of my favorite details!).
– Three handmade garlands hang below the ceiling treatment including cardstock circles sewn together, "Happy Birthday" cardstock Mickey Mouse silhouettes, and a Minnie Mouse bow garland. So perfect!
Minnie Mouse Birthday Party Food Display:
One of my favorite elements of a themed party is naming the food and they did such a fantastic job!
– Goofy Grapes
– Minnie's Carrots
– Toodles Noodles
– Chip's Chips (from Chip and Dale)
– Donald's Dip
– Hot Diggity Dogs
– Pluto's Punch
– Clubhouse Cotton Candy
– Pete's Pops

Minnie Mouse Birthday Party Cake:
What two year old girl wouldn't be over the moon for this cake?! It's simply incredible. The Minnie Mouse border on the bottom with those impossibly small bows are my favorite detail!
Minnie Mouse Birthday Party Favors:
I'm in love with these DIY Minnie Mouse and Mickey Mouse party hats! Can you imagine the excitement of the kids when they walk in and see these?! The sign above them says "We've got ears, say cheers!" just like they do on the show!
I love the decor, food and fun details of this Minnie Mouse themed birthday party, but these next two pictures are my favorite of the entire party. The look on the face of this birthday girl is PRICELESS!
 Happiest Birthday Wishes to you Jacqueline! I hope your day ended with the Hot Dog Dance! So long for now!