Wedding Wednesday: Cowgirl Themed Bridal Shower
This fun cowgirl themed bridal shower was submitted by Ember Pilati. She hosted the shower for her younger sister. There are a lot of really fun details to look out for so don't miss anything!
Here is the party description in Ember's words:
My sister is a cowgirl, not just a Rhinestone Cowgirl – a "real" cowgirl! She was raised on a ranch, has worked at several dude ranches as a guide and a cattle ranch in Montana. She is a Veterinary Technician and loves animals. So finding our theme was pretty simple. She is going to have a rustic wedding, but not a country theme, so we wanted her shower to be all about her! We found a darling white cowgirl hat with fake tiara and attached a simple veil to the back that she wore for the shower.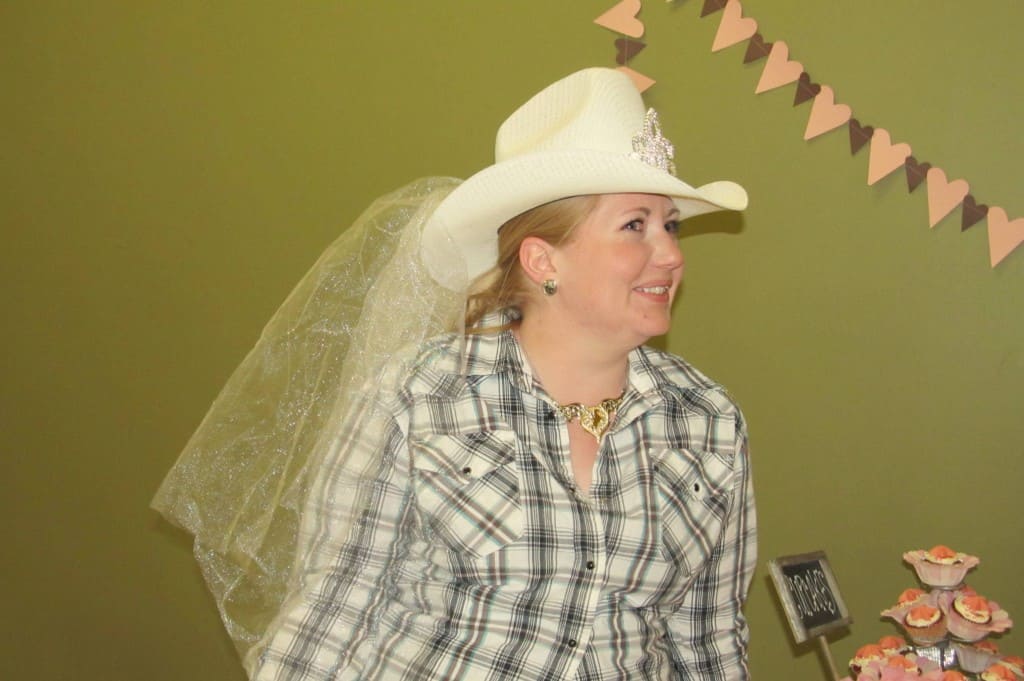 Location:
We rented the dance studio at her local recreation center, because she was a member- it was cheap! We wanted somewhere that we could enjoy our main activity-
Line Dancing
! We set up in the dance studio so we didn't have to change locations.
Menu: Keeping with our theme, we decided on BBQ Beef Sandwiches, Coleslaw, Potato Salad, Strawberry Spinach Salad, and Strawberry Lemonade.We also did red velvet cupcakes because they are the Bride-to-Be's favorite! To make the cupcakes really shine, we topped them with molded pink chocolate stars and fancy cupcake wrappers! Our Lemonade just had fresh strawberries in a fancy cup and they could choose Minutemaid Lemonade or Simply Lemonade.
Decor: I made a simple banner out of hearts (cut from a cricut) in the shower colors of pink and brown and simply sewed them together on the sewing machine. We used Burlap and lace with touches of pink gingham. We used chalkboard signs to label everything which captured the country feel. We used our favors as our centerpieces so it was super simple to decorate.
Activities: We played the "He Said, She Said" game with darling cardstock lips and cowboy mustaches that were attached to a bamboo skewer! This was the best game we had ever played at a bridal shower, and everyone loved getting to know the bride and groom as a couple! It was super fun! We also learned a country line dance that was really fun for all! We learned the line dance from the Movie "Footloose" to Big and Rich's "Fake ID". This part turned out to be a lot of fun even for those who claimed they couldn't dance! The bride said she would have to add the song to their wedding playlist so we could kick up our heels at her wedding.
Favors:
We made the darling "Cowgirl Cookies" from
www.bakerella.com
. She has the recipe
and the free printable on her website- so it made it super easy! I used pink gingham for the top and tied it with simple jute rope. I also did a super easy sugar hand scrub in pink for them to take home. (One bottle Olay Hand Renewal dishsoap and 6 cups of sugar whipped together in a mixer)

Do you have a party that you want featured on Events To Celebrate?!
Just email your photos and a description of the party (especially details of any DIY portions) along with a list of where you got items used in the party (so we can borrow your ideas) to [email protected]. Let's party!