Construction Birthday Party
If you're on the hunt for really great Construction birthday party ideas, you're in the right spot! Today I'm going to share all of the Construction party decorations, Construction party food ideas and the cute Construction party cake!
Head to this post for the construction party crafts, games, favors and invitations!
My cute little guy just turned 3 and he LOVES tractors! Not farming tractors (although, he does like those), the big CONSTRUCTION tractors! My husband uses them in his work and my son LOVES to go see "Daddy's tractors"! In fact, he thinks any tractors we see as we are out and about are "Daddy's tractors". So, we planned a really fun Construction Birthday Party for him and a few of his friends and had loads of fun!
Let's DIG right in to the fun details!
Construction Birthday Party Decorations
As you can see in the photo above, I ran CAUTION tape and black streamers down both sides of the food display table.
Above the food display table I used blue painters tape to put up pipeline plans (courtesy of my husband who works in the oil and gas industry). The PARTY ZONE garland from Oriental Trading went over the blueprint plans to create the backdrop. But this garland from Amazon is super cute too!
Along the top edge of the food display table I taped the road construction bulletin board cutouts from Oriental Trading. They were so great and I used them in several places throughout the party.
My Silhouette cutting machine saved the day on making these road signs. I purchased yellow craft paper from my local party supply store (for $.20 per foot) and mounted it on poster board. Then I cut out the letters and tractors using my Silhouette electronic cutting machine. The sign was flanked by two large traffic cones (that I didn't even bother cleaning for the party).
These centerpieces are as easy as it gets! I wrapped a dollar store sand bucket with CAUTION tape, filled them with black tissue paper and floral foam and then inserted the balloons and construction cutouts (that I had glued to a bamboo skewer). Two went on the food table, two went on the activity table.
To bring the party space a little more fun, I made this road sign using my silhouette machine and attached it to a sawhorse. Balloons and traffic cones added the finishing touches.
At the entrance to our home I made another cute display to welcome every guest to the party.
Construction Birthday Party Food
The food is always one of my favorite things about any party! With 3 year old little kids coming, I knew I wanted to keep it simple and sweet (literally)! During the party we served the kids the cake and ice cream. I filled their favor bags with handfuls of each of the treats to take home while they were playing.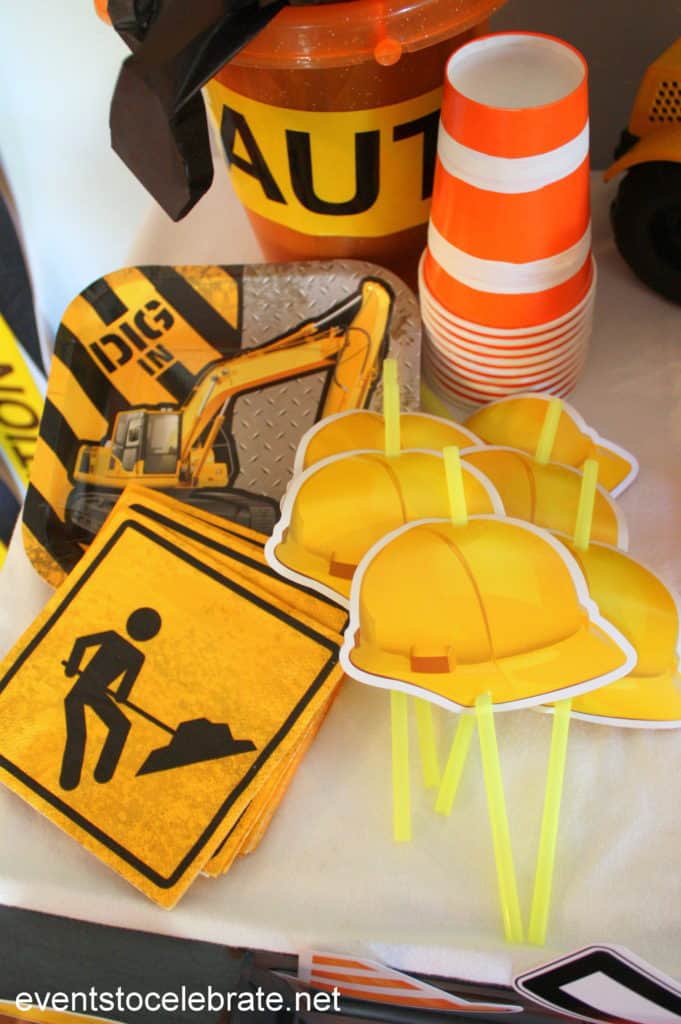 The paper goods came from Oriental Trading. I made the Orange Barrel cups by painting orange paper cups with white craft paint. To make the Hard Hat straws, I used a hole punch on the Construction Bulletin Board cutouts from Oriental Trading to thread them through plastic straws.
These sweet treats were:
Fuel = Fanta Soda
Boulders = Whoppers
Gravel = Reeces Pieces
More goodies included were:
Lumber = Wafer Cookies
Tractor Tires = Oreo Cookies
Safety Cones = Candy Corn (thank goodness it is October!)
Of course we HAD to serve ROCKY ROAD ice cream with the cake. I prescooped it the night before into cupcake liners and put them back into the freezer to save time at the party.
The Cake
I was pretty happy with how this cake turned out. It's a cake mix and two containers of store bought frosting to make a double layer cake. I used my Silhouette machine to cut out a large number 3 in card stock. I laid that down on the frosting while I covered the top of the cake with chopped up Kit Kat candy bars. Next I peeled off the number and filled that space with chopped up Oreo cookies (that I had scraped the frosting out of…I may or may not have eaten the cookie frosting).
I found these cute mini CAT tractors at the dollar store and put them on and around the cake. There is a dump truck hauling some candy, another one dumping it, a front loader on the table reaching up to the cake plate "dumping" some candy onto the cake stand and another tractor on the cake "pushing" the candy to reveal the number 3.