Favorite Ideas for Outdoor Birthday Parties this Summer
One of the great things about summer birthdays is that the weather is perfect for an outdoor party! Outdoor birthday parties mean you don't have to mess up your house. No worries over getting your house clean or keeping your house clean. The backyard is the perfect place for an outdoor party. Guests can come and go right through your gate.
Outdoor Water Party Ideas
Since it's summer, and warm outside, water parties are a great idea. Be sure to invite your guests to wear swimsuits or clothes that they can get wet. Plan some fun games to play in the water.
This balloon toss game will be fun for kids of all ages. Let younger kids stand a little bit closer to make it easier for them. Maybe older kids will find it more fun if someone's face was behind one of the holes!
Squirt gun races sound like so much fun! Make sure you have a squirt gun refilling station. Also, when stringing your cups think about the height of your guests and what will work best.
A twist on the original duck, duck, goose. You guessed it–the goose gets splashed with a cup of water! Your kids will end up soaked and they will want to keep playing until they have all had a turn to splash or be splashed!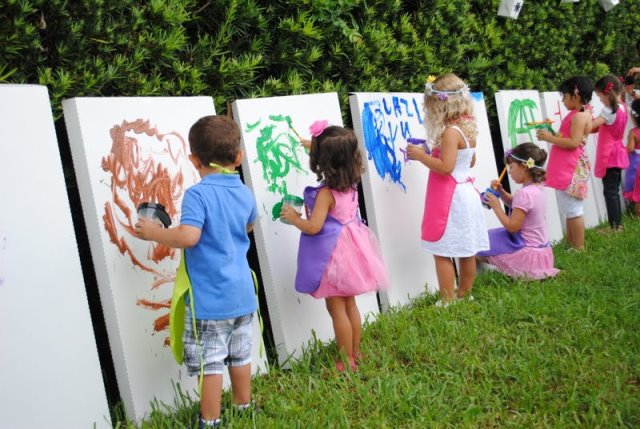 Aren't these kids lined up painting just the cutest! An outdoor painting party is ideal because you don't have to worry about a mess. This will take the stress out of it and just leave the fun. Remember to let parents know on the invite to wear clothes that their child can paint in and not ruin!
This is the cutest little drive-in party idea for young kids! But an outdoor movie is a great idea for a teen's party also. You can rent outdoor movie screens and projectors. Or you can also build your own movie screen. Set up a concession stand with popcorn and treats and you are all set!
A Nerf war party could be done inside but it's also a great outdoor birthday party! Kids of all ages love Nerf guns. Even some of the dads will get on board with this party idea.
Outdoor birthday parties can be as simple or over the top as you want. They are perfect for kids of all ages, boys, and/or girls.