Super Bowl Activities For Kids
Do your kids need a distraction during your Super Bowl party? Try some of these Super Bowl activities for kids to keep them entertained.
Coloring Page
Check out this super cool coloring page from Crayola. It has information about the very first Super Bowl. So your littles can learn something as they color. They also have lots of other coloring pages to print so if you're looking for a different sport or even something seasonal for them to color this is a great place to check out. Oh and it's FREE!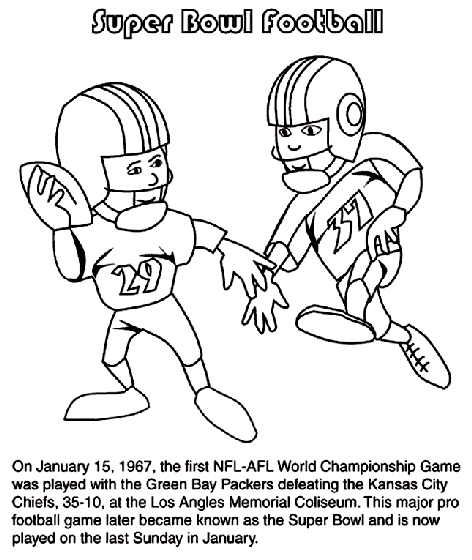 Catapult Football
I can already hear my kids cheering in the background at the idea of having their own football game to play during the real game. Busy Creating Memories has the directions to make this epic football goal post and catapult. I think every kid would love this Super Bowl activity.
Foam Finger And Megaphone
How is your child going to cheer their favorite team on without the proper gear. Have no fear foam fingers and mini megaphones are here. The foam finger is as simple as foam and a hot glue gun. The megaphone is made out of a paper cup, tissue paper, and washi tape. This is an activity that can be done prior to the big day or during the game. Just grab your supplies and turn your little ones into BIG fans!
Football Bingo
It's a no brainer. Kids love playing bingo and it's easy to do as they watch the game with you and eat their snacks. Made With Happy has this free download for you. There is also a tic tac toe printable on the site as well. All good games to keep the kids entertained during the BIG game.
Paper Bag Football
I think everyone will be a fan of this kids activity. It's a football made from a paper bag. The actual making will give the kids something to do but once it's done the real fun begins. It is stuffed with stuffing so it will be a lot safer to toss around the house than an actual football. So ready, set, hike! Let the game begin.
When you are planning for game day don't forget about the kids. Try one of these Super Bowl activities for kids to keep them happy during your game day party.
Get your Super Bowl snack ideas here!