This post may contain affiliate links. I receive a small commission if purchases are made through them. Those commissions are use to fuel my cotton candy addiction. I was sent certain products to use in this post from Oriental Trading. Thank you OT!
We had a lot of fun planning this Circus baby shower for my niece! I'm going to share all of our Circus baby shower ideas so you can put together your own in no time! I have to give my sister and niece all of the credit, they pulled this off, I only helped a little with the decorations and games. The circus baby shower invitations and prints were done by my talented niece and my sister did all of the circus baby shower food (which was delicious!) and put up the decorations because I was out of town until just before the shower. But it all came together so perfectly and we had such a great time celebrating with family and friends!
Circus Baby Shower Ideas
Using the 100′ roll of red and white stripe table cover from Oriental Trading was our best party trick. It went really far and did A LOT to decorate and theme the space. Without it, the design just wouldn't have been the same! We turned it into Circus tent curtains and a swag on the food table. It was accented it with teal and red tissue fans and teal tissue garland. The 36″ balloons were purchased at a party store and a tassel was added to each one.
The same look was repeated on the drinks table.
My talented graphic designer niece created these cute prints that were used throughout the party. They were a very significant touch and added SO much to the theme of the party! Are you loving all of these baby shower ideas?! So cute, right?! If you want to contact her about these prints or any other design work (you should see the cute invitations!) just email me for her contact info.
Circus Baby Shower Food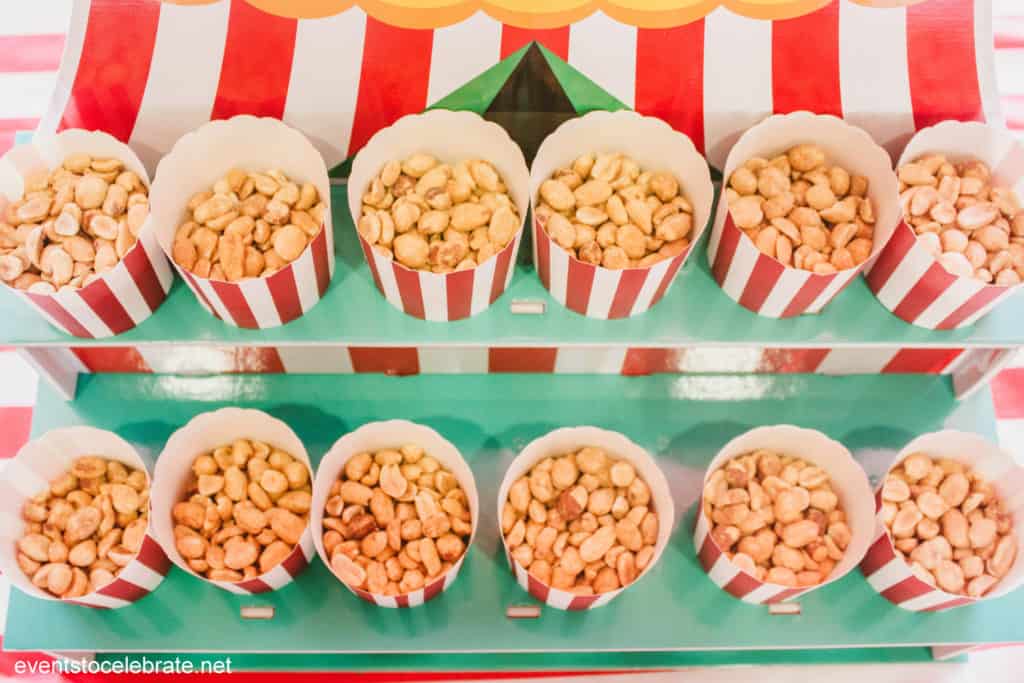 In one part of her kitchen my sister served pulled pork sliders, salad and chips. It was delicious! Then there were the treats! Oh, the treats! My darling 10 year old niece made lemonade cupcakes that were divine! They looked so adorable in the red stripe baking cups! She needs to be on the next Food Network Kids Baking Championship! In addition to the cupcakes we served churros (from Costco), honey roasted peanuts, popcorn and cotton candy (of course!). The food display stands came from Oriental Trading as well and were easy to assemble. They were meant for other food items but it was really easy to adapt them to what we were serving.
Circus Baby Shower Games
Every baby shower needs some way for guests to interact. Baby Shower Bingo is my all time favorite baby shower game. Watching the guest of honor open gift after gift can eat a large portion of your time together and frankly, it gets pretty boring. So, this is a fun way to get guests involved and having fun during it! My niece made bingo cards but you can also use my free printable baby shower bingo cards!
We also played the Poopy Diaper baby shower game. I detail it all here and even have FREE PRINTABLES for you to use! Hooray for free printables!
Circus Baby Shower Favors
Well, it was pretty obvious that these Circus animal cookies should be the favor. The were perfect!
Now you are armed with the cutest and easiest Circus baby shower ideas and your friends and family will be WOWED! Go ahead, you can thank me later. 🙂