Disney Princess Birthday Party Ideas: Invtations & Favors
From start (the invitations) to finish (the favors I sent home with the guests), I wanted to make sure every aspect carried the Disney Princess birthday party theme.
Disney Princess Birthday Party Invitations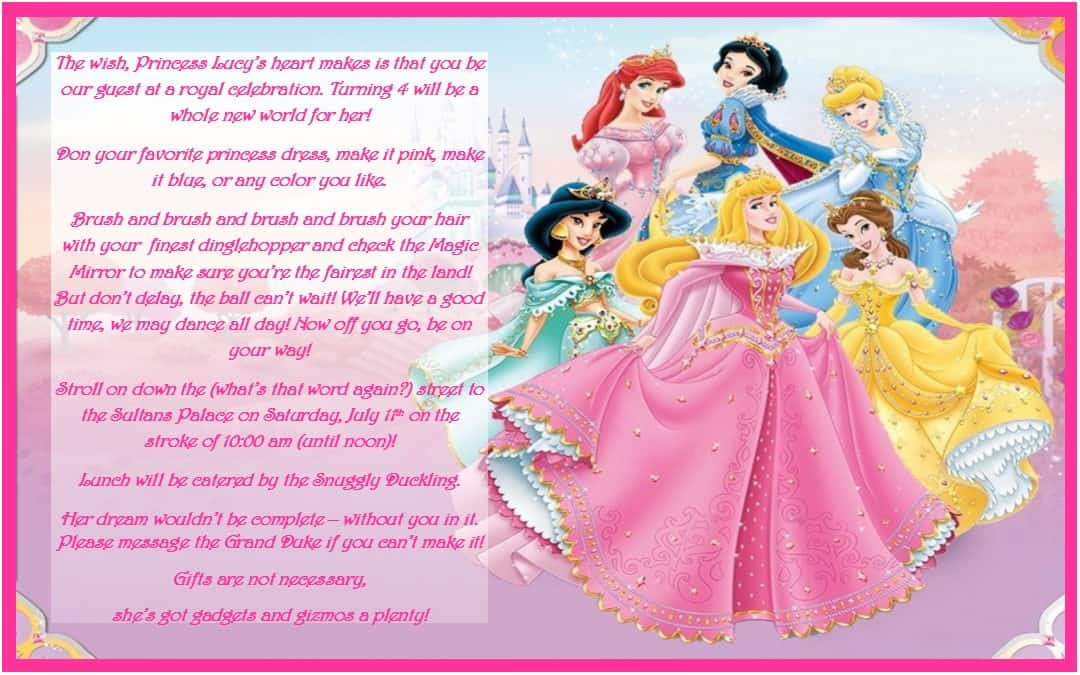 I've said time and again that the wording of an invitation should give your guests a clue on what type of party to expect. I took phrases from a bunch of the different Disney princess movies and used them to create this custom Disney Princess invitation. I used clip art images for the background.
Just in case it is tricky to see, here is the transcription of the wording. Try to guess which movie each phrase comes from. 🙂
The wish, Princess Lucy's heart makes is that you be our guest at a royal celebration. Turning 4 will be a whole new world for her!
Don your favorite princess dress, make it pink, make it blue, or any color you like.
Brush and brush and brush and brush your hair with your finest dinglehopper and check the Magic Mirror to make sure you're the fairest in the land! But don't delay, the ball can't wait! We'll have a good time, we may dance all day! Now off you go, be on your way!
Stroll on down the (what's that word again?) street to the Sultans Palace on Saturday, July 11th on the stroke of 10:00 am (until noon)!
Lunch will be catered by the Snuggly Duckling.
Her dream wouldn't be complete – without you in it. Please message the Grand Duke if you can't make it!
Gifts are not necessary, she's got gadgets and gizmos a plenty!
Disney Princess Birthday Party Favors
The idea (a brilliant one, if I may say) for these cute Disney Princess birthday party favors came from this blog. I followed her advice and ordered the satin bags from efavormart.com. I did have to purchase a dozen of each color, but they were SO inexpensive that it didn't matter to me. Then I just copied and pasted princesses to a word document, printed and cut them out. I didn't mess with the glue dots and everything she describes. I just filled a plastic bag with caramel popcorn and put that inside the satin bag, shoved the bust of the princess in and cinched the strings around her waist. I added a little tag and called it awesome!
Don't forget to check out the Disney Princess Birthday Party Idea posts HERE & HERE for ideas on games, food, decorations and more!