Disney Princess Birthday Party Ideas: Food & Decorations
Food and decoration ideas for our Disney Princess Birthday Party
For my daughters 4th birthday party she couldn't settle on just one princess to have a party themed around, so we used them all! Now, I've got a lot of Disney Princess birthday party ideas to share with you. It was the easiest party I've ever put together because there is so much already available in stores and such great ideas on other blogs that I borrowed from. We had each of the girls dress up in a princess dress for the party and had such a wonderful time!
Disney Princess Birthday Party Food
I got creative food ideas from my friend Marci who posted her princess party here. I've learned from past experience that toddlers don't care much for fancy food, so keeping it simple was essential. Consequently, the food ended up being perfect. About half of them finished their whole plate of food and asked for seconds! To set the tone, I escorted them each to a seat and welcomed them to the royal lunch. Then as I made the plates of food I explained the food I was putting on and they all were giggling at the names of the food.
Tiana's Tiara Sandwiches
I used a tiara cookie cutter (which ended up being smaller than I thought, but was the perfect size for these little princesses) to cut the bread and then spread peanut butter and jam on them. Here is the cookie cutter I ordered from Amazon – Princess Cookie Cutter Set
Ariel's Fish Friends
I just used standard gold fish crackers.
Belle's Gray Stuff Dip
I used whipped topping for the berries shown below. I even sang the girls the song while I prepped their food.
Aurora's Forest Berries
Fresh Strawberries to go with the whipped topping. Yum!
Chips Chips
Plain potato chips fit the bill for this.

Snow White's Wishing Well Water
I used lemon lime soda for this.
Here is the full table spread. It was simple, but they are 4 and they loved it!
The

plates and napkins

were from Walmart.
I bought the

bowls

for the crackers, dip and strawberries are in a Dollar Tree.
I made the

food labels

by searching for images on google and just copying and pasting them to a document and adding text and will have links to them below if you'd like to use them.
Disney Princess Birthday Party Decorations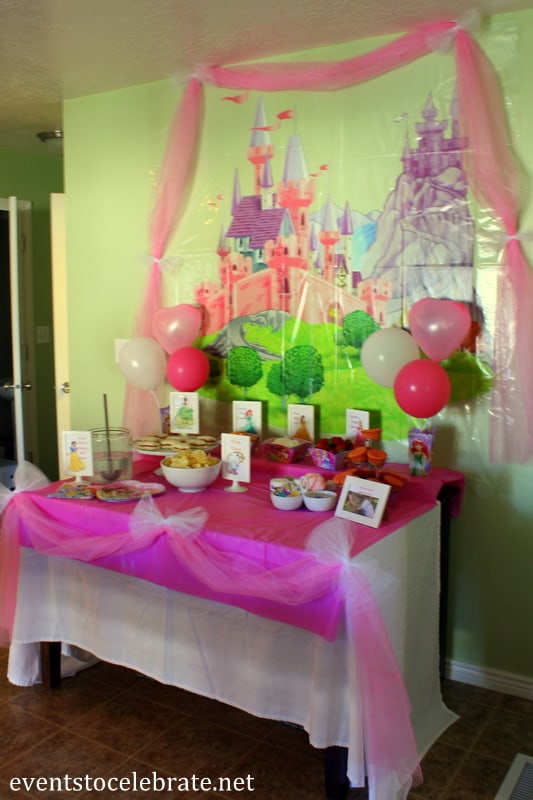 I had a lot of fun decorating for this party. It was really simple, and inexpensive which was awesome. When it was all finished, the look of the pink tulle swag with white glitter bows reminded me of my sisters prom dress from the early 90's – that's how I knew I had nailed it.
The Disney Princess Party backdrop and table
Princess Castle Backdrop: isn't that awesome?! It is like two thick plastic table cloths that you just tape to your wall. It made a HUGE impact helping theme the space for only a few bucks! I was even able to fold it up after the party to use again. I bought on Amazon – Castle Prop Party Accessory
Heart Balloon Centerpiece: I purchased the princess popcorn boxes at Dollar Tree and used balloon sticks to hold a few balloons. I purchased the heart shaped balloons online at efavormart.com. The girls loved taking one home!
Tulle Swag: I purchased 8 yards of pink tulle from a fabric store (with my 40% off coupon) and used 5 yards on the wall and 3 yards in front of the table. Then I added white glitter tulle bows to accent it.
Food Table: I purchased the Disney Princess Placemats from Dollar Tree. I purchased the Disney Princess cups and napkins at Walmart. Then on the food table I added the Disney Princess Barbies sitting by the balloon centerpieces and a vase of silk red roses. While they were eating lunch I told them the story of Beauty and the Beast (I also happened to be dressed up as Belle) and gave each girl a rose to take home.
Food Label Printables:
More for your Disney Princess Party!