36 Teacher Appreciation Doors
If you need to decorate a door for Teacher Appreciation week, we have 36 door ideas, perfect for your favorite teachers!
We're Wild about Mrs. Copo
You are the BEZZT
Mrs. Paige Mrs. Bills, Thanks a Minion
Mrs. Smith, Thank you for Helping us learn and grow
You're Out of this world
Thank you- Gardens and Children need the same things. Patience, Love, and someone like you who will never give up on them.
Miss Roerer is the Coolest
Mrs. McKinnon is an A-Maze-Ing Teacher
Mrs. Heaps is the "BERRY" best
We love Miss Cope to the moon and back
Mrs. Elzinga, Thanks for putting the zing in Learning
Learning is the Best Journey
Learning with MRs. Gillies is a treat
Learning with Ms. Leber is a Kick
I see you Love Computers. Thank you! We love u Mrs. Boyack
Thank you for making our hearts sing Mrs. Midina
We can't mask how much we love Ms. Mcvey
Mrs. Shelton is out of this world.
Thank you Mrs. Staheli for putting us on the road to success!
Mr.s Lyman is Incredi-BULL
We love Mrs. V to Pizzas
Hear ye, Hear ye. Let it be known by royal decree, that Mrs. Smith is the most magnificent in all the land.
Mrs. Evens is the Coolest
Mrs. Boston, Thanks for being a lifesaver
Thank you secretaries for making our school magical
You are A-MAZE-ING
You are one in a melon
Taco bout a great librarion. Mrs. Robison is SUPREME
Thank you for being ART – rageous
Mrs. C, We'd chews you every time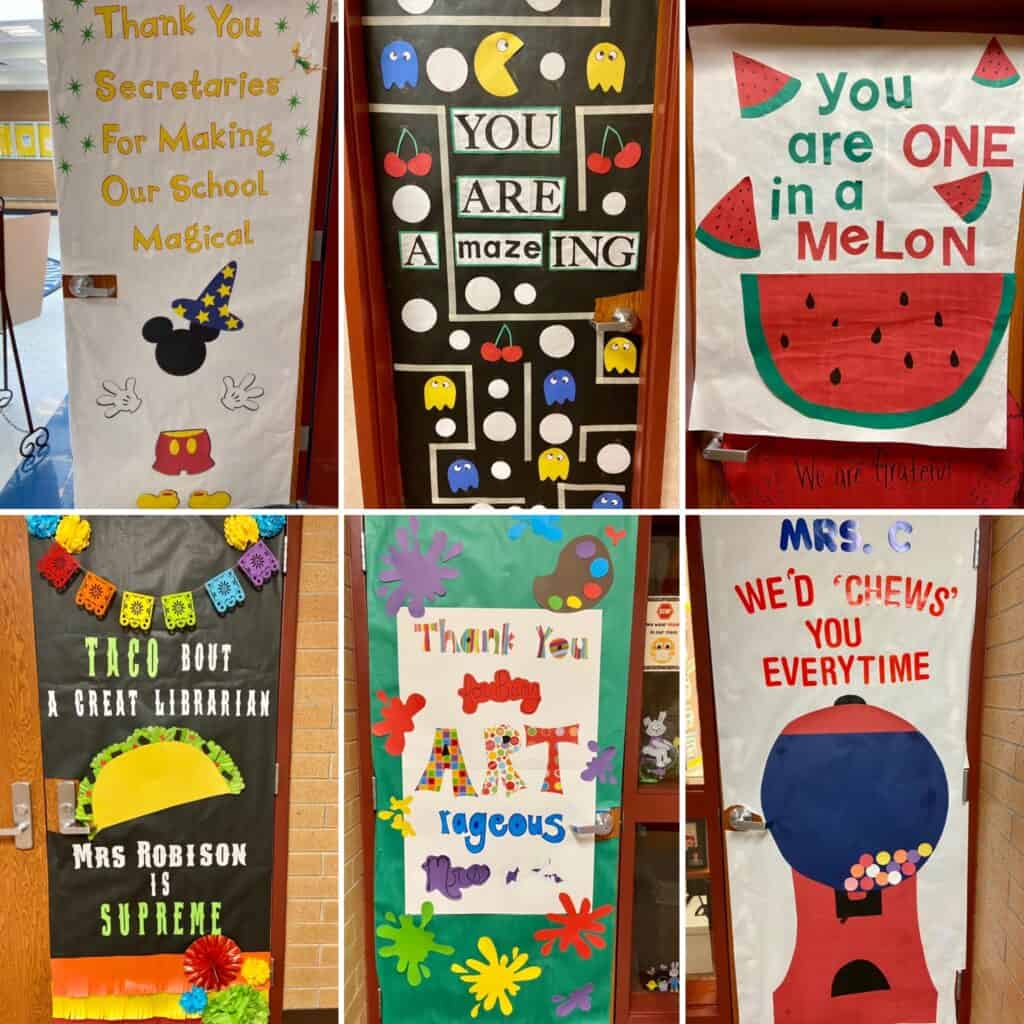 My Peeps call me their favorite teacher
Owl of us appreciate you making us wise
Mrs. Vance is out of this world
Our teachers make our classroom the happiest place on earth.
Mrs. Nielsen is our reading rainbow.
Mrs. Scott, Thank you, we had a ball
More Door Decorating Ideas from prior years!
PIN THIS TO YOUR TEACHER APPRECIATION BOARDS