9 Thanksgiving Crafts for Kids: Round-up
When gearing up for the Holidays, the last thing you want on your to-do list is shopping for tons of craft supplies. Here are 9 Thanksgiving crafts for kids that are fun, easy, festive, and made with simple materials!
Every bit of me LOVES Thanksgiving! There is an abundance of really delicious food, a great heritage to the holiday, time with family and friends, and the opportunity to reflect on your blessings. These crafts are a great way to make even more special memories with those you love.
These Thanksgiving crafts for kids will be perfect in helping you teach your little ones about the season, or just have some themed holiday crafting fun! I've rounded up a few ideas and want to share them with you.
Thanksgiving Crafts For Kids
1) Gumdrop Turkeys
All you need for this craft are gumdrops and toothpicks! Not only is it a cost-effective craft, but your kids will LOVE getting to eat their gumdrop turkey once they are all done!
Things you'll love about this Thanksgiving craft:
Only requires 2 supplies (easy and cheap!!)
Makes minimal mess
Edible craft = kids love it more
Quick to make
Do-able for all ages
I mean really, what's not to love?! For more, follow this link!
Note: You can even make it a "healthy snack" by using fruit snacks or cut-up fruit over candy!
2) A Thankful Tree
All you need for this Thankful Tree are paper, scissors, tape, and something to write with!
By simply cutting out a tree shape and some leaves, you can have family members or Thanksgiving dinner guests share what they are grateful for.
Some options for this holiday craft are to have it hung on your wall throughout the month of November, adding more leaves throughout the month OR to have people decorate their own leaf and add it on Thanksgiving day. Regardless, you will all enjoy filling the branches with the bounty of blessings you have in your life!
For details on how I made this one, go here.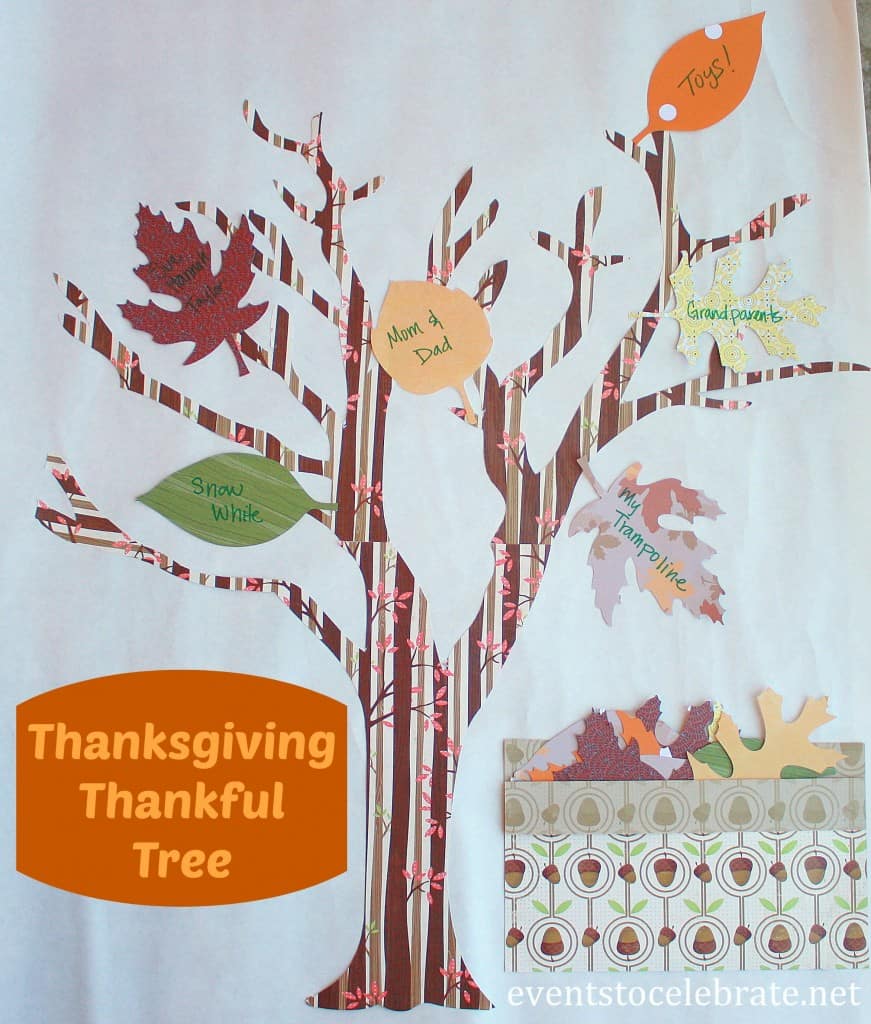 3) DIY Placemats
Using paper, glue, scissors, and coloring utensils, your kids can make these fun placemats!
Whether you send them outside to gather real leaves or just cut some out with paper, the kids will love making their own unique placemats for dinner!
The best part is, that this is a craft that ALL your kids can enjoy, no matter how old they are. Toddlers can do it, elementary-age kids, and even teens!
For more details, go here.
4) Fall Leaf Wreaths
Craft supplies needed: Paper plates, glue, leaves, and scissors. That's it!
A great way to do this is to go on a nature walk, collect lots of pretty leaves, and then come back to turn them into a beautiful wreath to hang up. This activity encourages quality time together while also being a simple, fun project.
If you like nature, time together, and simplicity, this is the Thanksgiving craft for you!
5) Paper Bag Turkeys
This craft comes with an awesome printable for all of the paper items attacked to the turkey. Along with the printable, just gather up some glue, scissors, a paper bag, and googly eyes for lots of Turkey-tastic fun!
And if you want to take it a step further, have your kids write or draw the things they are thankful for on each feather. Now it's cute, fun, AND educational!
Click here for more details on this craft and planning a full Thanksgiving party for kids. 
6) Thumbprint Turkey
Using basic crafting materials such as paper and paint, you can make a super cute Thumbprint Turkey for the holidays.
Now you always want to be careful when handing your little ones paint, but with some washable paints, this becomes a super chill holiday craft.
Want to see more? Click here.
Do you have any pinecones laying around? Make this Pinecone Turkey! With some paper, glue, googly eyes, writing utensils, and scissors, your kiddos can assemble their very own turkey friend.
Kids can have fun tracing their hands and adding things they love onto each of the fingers. This way they can express gratitude while also doing an easy craft.
Note: You could make this even more intricate by outlining their hands multiple times and staggering them to create even more "feathers".
Click here for instructions on how to make this one!
Need some felt? ASSORTED ACRYLIC CRAFT FELT
Need some craft foam sheets? Assorted Foam Sheets 12-Inch by 18-Inch
Either using real leaves or paper ones, your kids can decorate their very own fall centerpieces. All you need for this are some leaves, mod podge, a sponge brush, and a mason jar!!
These can be used as lanterns, to decorate the table for Thanksgiving dinner, or even as thankful jars to add notes about the things they are grateful for!
They don't take long to make, are super customizable, and can be used for a variety of purposes. So fun!
Follow this link for more information!
These Thanksgiving crafts for kids are simple, inexpensive and will provide an afternoon of fun crafting! Happy Thanksgiving!
For even MORE Thanksgiving crafts and games for kids – check out this post!
Don't Go Just Yet
Here at Events to Celebrate, my whole goal is to help real people plan for their kids' birthday parties, life events, and holidays! Life is crazy. I GET IT. You don't have endless time OR money to spend on parties, but you still want to help your guests have a great time. I'm here to help give you tips, tricks, and ideas for celebrating life on a budget.
As a mom, you want to do it all. You want to make your family happy and create special memories. My brand is all about creating special moments with those you love. The kind of moments that you will look back on years later and wish you could relive! So, if that's something you're interested in, stick around! I have an email list you can sign up for, so you don't miss my future party ideas!