8 Yummy Christmas Cookies
When it comes to holiday baking, cookies are our #1 go to. Here are 8 yummy Christmas cookies for a holiday party, cookie exchange, or neighbors.
Soft Gingerbread Cookies
These are the cookies my hubby asks for in lieu of a birthday cake. The recipe makes several dozen. The baked cookies freeze great so you can eat some now and save some for later. We love them with or without frosting. These are definitely YUMMY Christmas cookies!
Leg Lamp Cookies
Shut the front door. I am so in love with this cookie from A Christmas Story. You'll have to pull out the crafter in you to get the design and icing just right but they would be a show stopper and a yummy Christmas cookie for anyone to receive.
Candy Cane Sandwich Cookies
The sandwich cookie is always a winner. Add some crushed candy cane around the edges and you have taken it to a whole new level. Epicurious has the recipe for this yummy Christmas cookie. Since it takes 2 cookies to make 1 sandwich I often have to double the recipe to make sure there are PLENTY of cookies to go around.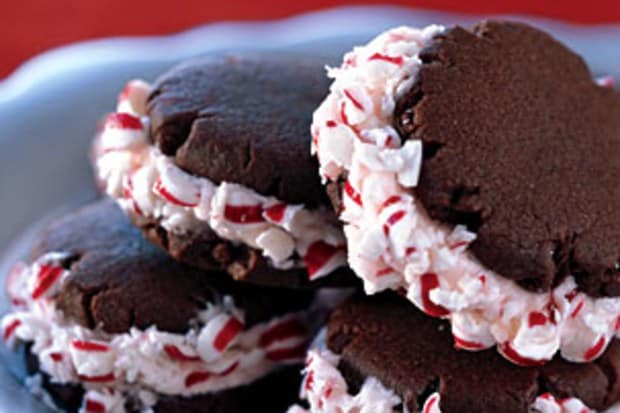 Snowball Cookies
Mexican wedding cookies and Russian tea cakes are the same idea as these snowball cookies. Yet, calling them snowball cookies is so much more festive and fun! Try making these yummy dainty butter cookies for your next Christmas get together.
Meringue Cookies
I have recently become addicted to The Great British Baking Show. There is A LOT of talk about meringue on that show. It makes me want to make these yummy cookies for myself. With 25 calories a piece and 5 ingredients these are a must try for your Christmas cookies.
Twix Cookies
A few years ago a friend delivered a plate of these to our house for Christmas. It was love at first bite. A cookie, chocolate, and caramel. This is a yummy Christmas cookie that will remind you of a delicious candy bar.
Eggnog Cookies
Now why didn't I think of that? Putting eggnog in your cookies AND in the icing. Love From The Oven has the recipe for what are sure to become a Christmas favorite.
Candy Cane Cookies
Candy canes are so festive with their shape and color. They are sure to put you into the holiday spirit when you twist the red and white dough to make stripes. A yummy Christmas Cookie from Home Cooking Memories.
Christmas is my favorite time of year to bake. Especially to bake cookies. These 8 yummy Christmas cookies should keep you busy baking this holiday season.