Cute Baking Birthday Party Ideas
My adorable niece Erica just turned 13. In fact, her birthday is December 26th – which can be a tricky day to celebrate on, so they held her party the Saturday before Christmas. She and her Mom love to bake, cook and do anything in the kitchen- so it made sense that she wanted a Baking Birthday Party!
I had so much fun brainstorming ideas with her and was so happy she used a couple of the ones I suggested, and even more happy that she came up with some of her own (that were way better than mine)!
This party theme isn't just for girls either, making pizza and decorating cupcakes is a pretty universal thing. Everyone can get in on the fun!
We started by finding a collection of FREE Baking Themed Party Printables and using them as our jumping off point for the colors of the party.
Baking Birthday Party Invitations:
To accompany the invitation to the party, Erica attached a wooden spoon with ribbon. She also made each girl an apron from some cute chevron print material. I love when an invitation lets you know exactly what type of party it is!
*If you aren't up for making the aprons – here are some really cute and inexpensive Children's Aprons
Baking Birthday Party Food & Activities:
As the girls arrived they were invited to create their very own pizza. They got creative with their pizza shape and topping combinations. This can be as quick and easy (buy prepackaged items) or as gourmet (make your own sauce, chop your own veggies) as you like. The young girls were super happy with the selection, and the pizzas tasted great!
Need to amp up your supply of Rolling Pins? These 14 Inch Wooden Rolling Pin
are CRAZY inexpensive!
While the pizza's were baking they had a food guessing contest. Each girl was blind folded and given 6 brown paper bags containing a mystery food item. They had to taste each item and write down on their paper what they thought it was. At the end, the points were tallied and the winner got a prize! They were simple, recognizable foods (or so they thought), but many had a difficult time guessing correctly! 🙂
After eating pizza, they played a second game. The object is to unwrap candy with baking utencils. They satt on the floor in a circle and had to roll a pair of dice until they got doubles. Once they got doubles they handed the dice off to the person next to them and put on a pair of oven mits and using a wood spoon and spatula, tried to unwrap a Hershey Kiss. If they got the wrapper off they could eat it, but as soon as the person next to them rolled doubles they had to stop where they were and hand over the items for that person to try. They had a really great time playing this! I've also seen this done with a king sized wrapped candy bar.
The final activity was to decorate cupcakes. Piping bags were pre-filled with frosting and there were several options for sprinkles and toppings. Each girl decorated 4 cupcakes and then took them home in a cute little bakery style gift box (like these Pastry Box with Window
)
I just have to point out – don't you LOVE that baking cups garland?!! I want to do it at every. single. one. of my parties! Want to make one? You can purchase the baking cups here: Wilton Blue Dots Baking Cups
, Wilton Pink Dots Baking Cups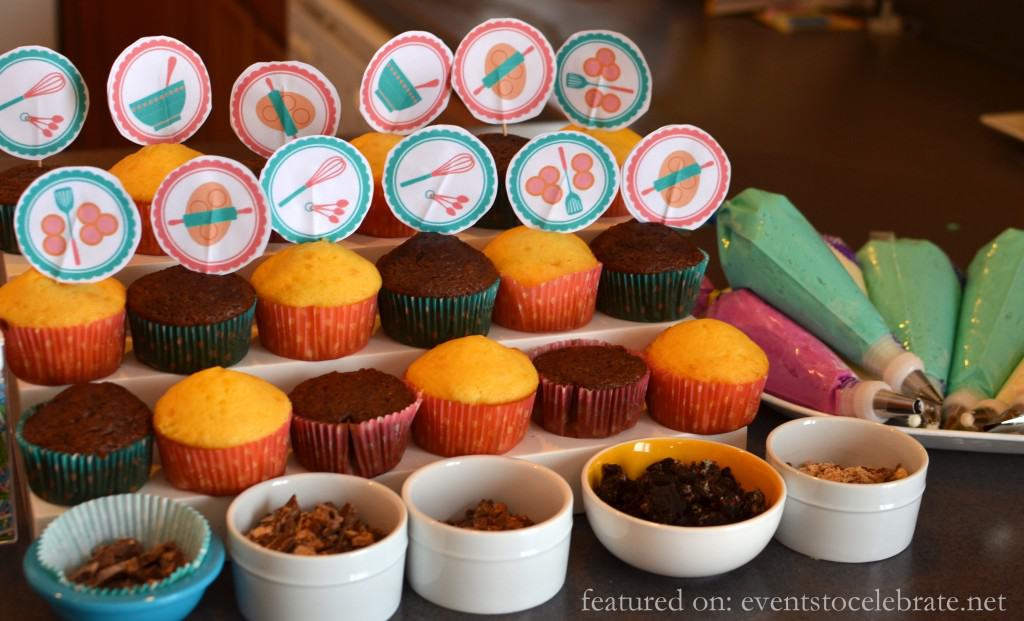 DO YOU HAVE A PARTY YOU WANT FEATURED ON EVENTS TO CELEBRATE?! SEE THE "ABOUT ME" PAGE FOR DETAILS!