Doc McStuffins Birthday Party
This post contains affiliate links. I receive a small commission when purchases are made through them.
Come, on! Let the party begin, the Doc is in! From start to finish, this Doc McStuffins birthday party is totally adorable! Follow these cute ideas to plan your own Doc McStuffins party and your little guests will have as much fun as Hallie the Hippo at the prom! There are SO many CUUUTE Doc McStuffins party supplies to incorporate – have fun!

Doc McStuffins Birthday Party
Doc McStuffins Invitations:
A handmade Doc McStuffins headband accompanied the invitations to the party. I love that from the invitation you know right away what type of party it is going to be!
Doc McStuffins Party Crafts:
Doc McStuffins Necklaces: As guests arrived they were invited to the table to make heart bead necklaces while they waited for others to arrive.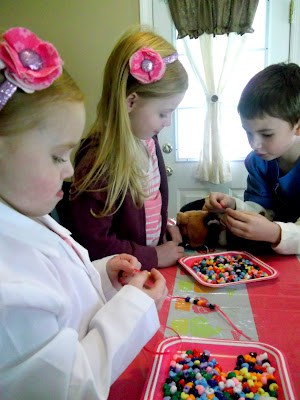 Check-up Time: Toys were brought out that all needed some special attention and care. Each guest was given a handmade stethascope to use while helping to diagnose the toys ailments. They sang the Doc McStuffins check-up song. They found that one bear had torn-tummy-itis and they helped stitch him back together. Another set of toys had mixed-up-parts-iosis and each girl helped figure out the correct parts to go together. A third toy had a door that kept coming off and was diagnosed with broke-door-efitis and was promptly taken care of by the doctors. I love these stuff-your-own animals and think they would be so perfect for this party!
Aren't they all so adorable – especially with their headbands and stethascopes?!!
Doc McStuffins Cake:
Rochelle has mad skills in the cake department. She topped this #4 cake with Doc McStuffins figurines, fondant bandaids and candles. So cute!
Doc McStuffins Party Favors

:

Each guest got to take home their own Doctors bag filled with:

Lambie Tails, doctor is in/out door sign and a book of boo boos to fill in each time they diagnose a toy at home.
I love every single detail she included! She planned and hosted this party before Doc McStuffins had gained the popularity is has now and there are a lot of fun FREE PRINTABLES that you can include if you are also planning a party for your little Doc.
For some really cute Doc McStuffins party favor ideas that use FREE PRINTABLES – check out this post!
Free Printables: